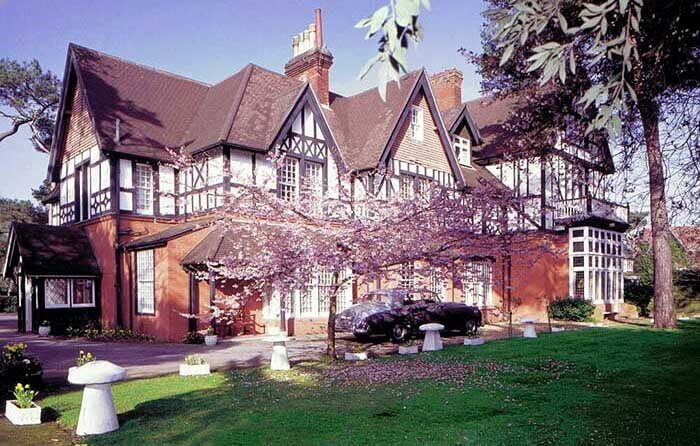 It's not every day that one gets to experience and enjoy the lavish surroundings of a hotel that is steeped in history but also possesses a modern outlook but we found such a place on a recent trip to Bournemouth at the historical Langtry Manor Hotel.
Arriving at the Langtry Manor
Stepping through the doors of the Langtry Manor Hotel in Bournemouth East Cliff, one is immediately taken back to a time of elegance, style and grandeur. Upon arrival, we are greeted with smiles and a warm welcome by the Langtry's front of house staff who enquire about our journey and make the check-in process a simple and straightforward one. The Langtry bellhop is at hand to assist with our baggage and expertly whisks us up to our room, via its own private staircase, to the elegant Alexandra Suite.
The Alexander Suite
The hotel accommodation features bespoke rooms that are individually named after guest that stayed at the house and events of that time period. Hence our suite is named after Princess Alexandra of Denmark. The room is furnished with feminine elegance and a calming colour scheme which induces relaxation the moment you enter the suite. In the corner is a fabulous Jacuzzi bath (and shower) – it sits within the spacious sitting room of this open plan suite and is perfect to lounge in after the long drive. We have the choice of entertainment too, from TV (2 in fact, in separate locations within the room), a selection of DVD's (at the front desk) or utilising the iPod docking station to listen to our very own music library, if in fact, we feel the need for a little light entertainment.




Super kingsize bed adds to the splendour
The huge super-king bed just calls out to be lounged upon, and in no time at all, we have switched off from the outside world and are quietly resting as we listen to the fading sounds of birds cooing outside our bedroom window.
As we emerge sometime later, the Langtry Manor staff are eager to be of assistance with dinner reservations at various suggested Bournemouth restaurants and suggestions of other evening entertainment we might enjoy during our stay in the area.
Attention to detail that makes all the difference
What really strikes one about the Langtry Manor is the thought and attention to detail that's clearly been given to the hotel, from the ornaments and gilt-framed portraits and other pictures to the splendid dining room with its huge open fireplace, stunning tapestries, and the beautiful full-length curtains at the windows.   Each table is set with white tablecloth and napkins, fresh flowers and place settings – it's really very special and built for someone very special.
The hotel was originally built by King Edward VII for his mistress Lillie Langtry and named the 'red house'.
Breakfast at the Langtry Manor
The Langtry Manor Restaurant serves a breakfast, lunch, afternoon tea and dinner menu, all of which are reasonably good. There's a breakfast buffet at one end of the restaurant where one can select from fresh fruit, pastries, juices and more. The menu featured old fashioned British favourite's of smoked haddock accompanied by wonderfully runny poached eggs and brown toast, or perhaps a full English breakfast? Nothing's been forgotten here! However, we found it to be warm and slightly bland.
Old fashioned service with a smile
We enjoyed our break at the Langtry Manor and would probably stay there again. One is made to feel welcome, nothing is too much trouble, and if there's anything that you don't have just ask the front desk, they'll be happy to assist or at least point you in the right direction if it's a service they don't provide. In addition, the rooms, linens and furnishings are all beautifully clean and well maintained. The only problem we did have was that one of the TV's wouldn't pick up cable, and had we had the energy we could have just asked the front desk for assistance and no doubt they'd have been up in a shot!




Weekend Breaks at the Langtry Manor Hotel
The Langtry Manor is unlike other hotels in the Bournemouth area whereas rather than a casual night's stay it is more for visitors who want a holiday break with extras. It is within walking distance to the beach and makes for a perfect short holiday.
Watching the staff with other guests during our weekend break at the Langtry, it's clear they offer the same special treatment to everyone who walks through the door. A real breath of fresh air as far as hotel stays go!
Save
Save