Last updated on February 20th, 2020 at 02:01 pm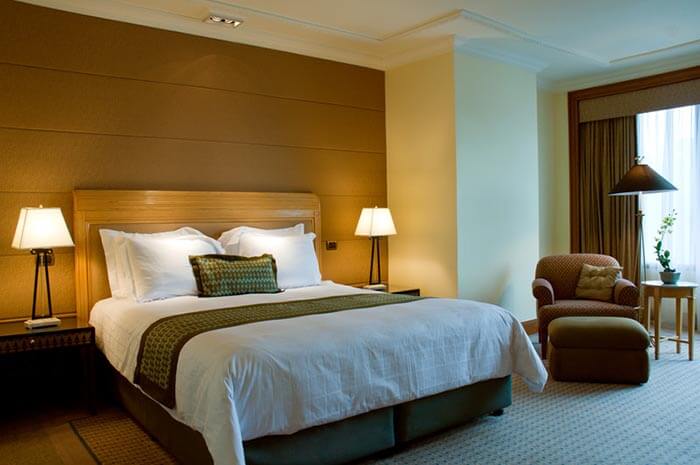 The history of hotels and the hospitality industry have been recorded as far back as biblical times when Mary and Joseph arrived in Bethlehem during the census. As the Bible depicts, Mary and Joseph were refused accommodations because there "was no room at the inn."
Since the beginning of time, people have travelled for commerce, religion, family, health, immigration, education and recreation.
Early hotels were more B&B than a hotel
As cited by Texas Tech University, the word "hospitality" comes from the Latin root meaning "host" or "hospice." The university further noted that the first hotels were nothing more than private homes opened to the public, more of a bed and breakfast experience. Most, unfortunately, had poor reputations. Under the influence of the Roman Empire, inns and hotels began catering to the pleasure traveller in an effort to encourage visitors.
The first official hotel accommodation
The first inn located in America was recorded in the year 1607 and lead the way with many other firsts in the hospitality industry. The first publicly held hotel (the City Hotel) opened in New York in 1792. The first modern hotel (the Tremont) opened in Boston in 1809 and the first business hotel (the Buffalo Statler) opened in 1908.
From there a surge of hotels flooded American and the rest of the world with prominent names such as Radisson, Marriot and Hilton.
The first official 'oldest' hotel in the UK
'Apparently' the title of the first official hotel in the UK goes to The Royal Clarence Hotel in Exeter – which burned down in 2016 – and was the first establishment to officially use the french word hotel
History of Hotels; Types of hotels
Hotels (as well as other forms of accommodations) are generally segmented by the type of hotel services and amenities offered. These two factors, along with location, also have a bearing on the price range.
Budget hotels
Budget hotels offer clean albeit simple rooms that provide the basics of places to sleep and shower. Usually, budget hotels are designed for travellers looking to maximize their funds and minimize expenses. Prices can range from £25 per night to £70 per night.
Business hotels
Business hotels offer a high standard by providing rooms equipped with what business travellers would consider necessities. Usually found in business-class hotel rooms are high-speed Internet connections, alarm clocks, comfortable beds, irons and ironing boards, coffee makers, complimentary newspaper delivery and hairdryers. Rates can range from £70 per night to £250 per night.
Business hotels facilities
Depending on the type of business hotel, it can offer an in-house restaurant, bar, exercise room and shuttle service to nearby airports. Limit concierge assistance is often included as well as room service, laundry and dry cleaning and wake-up calls.
Luxury hotels
In a class of its own, you have luxury hotels that are known for their lavish decor and extraordinary service. With superior amenities, accommodation at luxury hotels is designed to thoroughly pamper and impress guests.
Hard to please travellers
According to a Business Week Online article, those in the luxury market are getting harder to please stating that luxury goods and service providers can't afford to blunder with the level of service and customer experience they provide. For this reason, many luxury hotels go far beyond the norm by providing a lifestyle experience equal to or better than what guests have become accustomed to at home.
Luxury hotels amenities and prices
Many luxury hotels frequently offer full-service day spas, five-star restaurants staffed by world-class chefs, ballrooms, lavish pools, golf packages and guest services that are unsurpassed by any other class of hotel. In addition, luxury rooms generally include those amenities found in business class hotels plus in-room safes, goose down comforters and pillows, marble showers and tubs, larger rooms, separate sitting or living area and fog-free bathroom mirrors. Rates can range from £125 per night to £1,500 per night, with some even topping out at an eye-watering £20,000 per night.
Rates for hotels can vary greatly depending on location and proximity to popular events and attractions.
You may be interested in:
Business mixed with personal accommodation
There are other classifications of hotels, however, most will fall into one of these three or a combination of these three. With the lines between business and personal becoming more blurred, many entrepreneurs and business executives will attend conferences or embark on business trips with family in tow. Hotels are aware of this common occurrence and have become adept at providing facilities and services that both business and recreational travellers enjoy.
Hotels that cater to weddings
More hotels are now offering facilities for couples to be married in. Some are luxurious and others a little more basic. However, depending on the budget you can petty much find a perfect wedding venue that will cater to the couples exact needs.
UK Hotel star rating system
 Because of the diversity of hotels a rating system, based on stars, was created. However, rating systems don't all carry the same definitions. For instance, in Britain, the Automobile Association (AA) regularly reviews and rates facilities with a scale based on one star to five stars. The ratings reflect specific written standards set forth by AA. Travellers who are familiar with this system will know what to expect when booking a reservation at a hotel rated on this scale.
But in Europe or Latin America, the rating system (if they exist) are widely scattered and unorganized. The same applied to most online travel booking sites that apply their own "star" system, which is not related to the AA.
Personal recommendations are the best way of choosing the right hotel
If the facility is unfamiliar, rather than rely on a rating system that could be unfounded, look to online review sites for help or ask friends or business associates for recommendations.
Social media recommendations
On social media sites such as Facebook, Twitter and Instagram, someone will have something to say about a particular hotel. Travel social networking sites like Foursquare/Swarm where travellers will leave a review about a specific service or amenity in a hotel or restaurant are always worth reading.
Google maps reviews are another rich source of information about a hotel or venue. Look at the user photos and reviews.
History of hotels
From their humble beginnings in spare rooms of private homes to the plushest, opulent and service-oriented facilities available, hotels have evolved into temporary housing for people of all classes who travel. With such a diverse selection, finding a hotel that caters to your needs, on your level can be the defining point in a holiday or business trip.
---
Search Go is a special features portal that provides information on every subject imaginable. If you need info … then search and go!