Last updated on March 3rd, 2020 at 03:11 pm
Laser Liposuction (laser lipo) is a surgical procedure to eradicate fatty tissue from stubborn areas that have been resistant to diet and exercise regimes.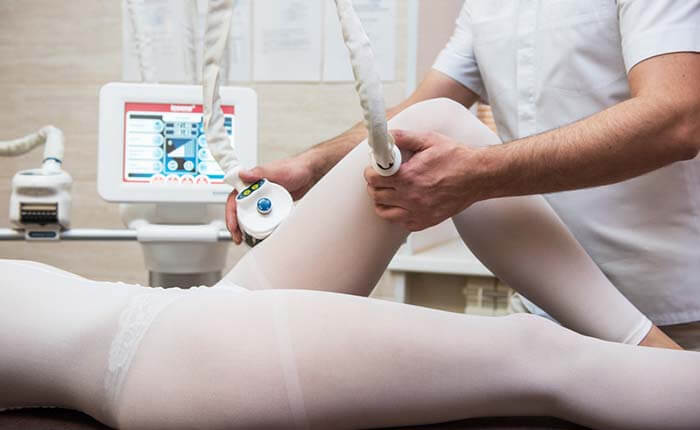 Laser liposuction system
Laser is one of the safest and most effective methods for Liposuction treatment. The procedure is minimally invasive resulting in minor discomfort to the patient. This, therefore, allows for faster recovery time than with traditional liposuction methods.
How does laser liposuction work?
The laser heats the fatty tissue to a specific temperature, therefore, allowing the fat to liquefy in the subcutaneous layer. The body then eliminates the liquefied fat naturally. There is reduced bleeding during surgery as the blood vessels coagulate due to the heat generated by the laser. Skin tightens around the area where laser liposuction is performed so there is no loose skin remaining after the procedure, as there would be if traditional liposuction had been utilized.
Is laser liposuction painful?
A local anaesthetic will allow for pain-free surgery so that laser lipo can be performed fairly quickly on an outpatient basis, in the doctor's office. There may be minimal bruising and/or swelling which will disappear within a few days at which time one may return to work.
What is laser lipo good for?
Laser liposuction can be administered to the following areas of the body: Face, neck, cheeks, chin, upper arms, back, waist, hips, tummy, inner and outer thighs, knees and ankles. Prospective candidates for 'laser lipo' should be in good health and be of average body weight.
'Laser lipo' has started to become popular in the last couple of years due to more cosmetic surgeries in the UK offering these services. As with any cosmetic surgery procedure, do your homework to find the right cosmetic surgery practise for you.
---
Dr V. Ilankovan is a consultant maxillofacial surgeon at Poole Hospital and medical director at the Wentworth Clinic cosmetic surgery.