Last updated on March 25th, 2020 at 10:17 am
Samsung has now launched its flagship smartphone, Galaxy S20 Ultra with three models with top-of-class class cameras.
The long-awaited Samsung Galaxy S20 5G was unveiled on 11th February in a Samsung Galaxy Unpacked event.
For this article we are going to cover the Galaxy S20 Ultra, however many of the camera specifications are the same as the other 2 smartphones, with some major differences.
Samsung S20 Ultra spec
The Samsung Galaxy smartphone comes in 3 versions, S20, S20+ and S20 Ultra with all sporting an incredible array of camera technology and specifications.
The S20 Ultra is the top of the range model and comes with a high specification; 6.9" Infinity-O display with Gorilla Glass 6. 108MP camera. The colours are only available in cosmic grey and cosmic black.
Battery: 5000mAh
Weight: 220g
Dimensions: 16.69 x 7.6 x 0.88cm (166.9 x 76.0 x 8.8mm)
Resolution: 108MP
Memory:16GB RAM
Storage: (internal): 128GB, 256, 512GB
Samsung Galaxy S20 UK release date
The Galaxy S20 will go on sale in the UK on March 13th, 2020, however, you can now buy it directly from Samsung https://searchgo.co/out/samsung-s20preorder with a choice of payment options.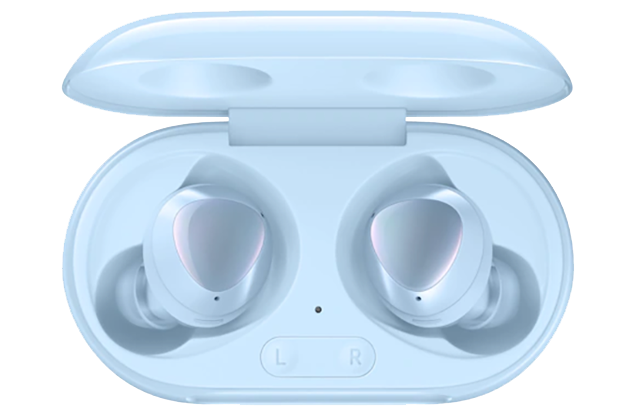 Buy the S21+ and S21 Ultra and Claim free Samsung Galaxy Buds+
For a limited time, https://searchgo.co/out/galaxy-s20-preorder Samsung will be giving away with each order of the Galaxy S20+ and S20 Ultra a free pair of the newly released Samsung Galaxy Buds+ worth £159. If you can't wait that long then you can buy the Buds+ on the Samsung UK website here:
Extra discount with Samsung Phone Trade-in program
Not only can you claim the new Samsung Buds+, but you can also save money on the purchase of  Galaxy S20, S20+, and S20 Ultra with Samsung's Phone Trade-in Program.  I was offered £150 for a Galaxy S8.
How the smartphone trade-in works:
Choose a version of the Samsung Galaxy S20 and confirm the condition (no cracked screen, broken pieces etc).
Get an immediate discount offer against your new device
When your new phone ships you will receive shortly afterwards packaging to send back the old device. Make sure the old smartphone has been backed up (either by Samsung or Google) and then format the phone.
Does the Galaxy S20 have a MicroSD storage slot?
The S20 Ultra comes with a Micro SD slot that can expand the storage adding up to 1.5TB of storage. This will be welcome for many who want the option of extra storage capability without the extra pricing for an already expensive mobile smartphone.
What is the best Micro SD storage card for the Galaxy S20 Ultra?
If you are going to fork out the cash for a high-ticket price smartphone then it stands to reason you will want the best accessories and add-ons. This should include the storage card. Look for a reliable brand of storage and especially if you are going to be shooting 8K video with your phone. You will want cards that are not just reliable but fast too.
My favourite MicroSD cards for backup and storage are:
Samsung EVO 256GB microSDXC
It makes sense that the manufacturer would have its brand of SD storage cards supporting their devices. The Samsung EVO will expand the storage of an S20 giving you an extra 256GB (on top of the 128GB you already have) and is perfect for shooting high-detail 4K and 8K video files. While it's not the fastest it does provide reliable performance and speed.
SanDisk Extreme Pro MicroSDXC (32GB -1TB) 
SanDisk has long been the favourite brand in memory cards for mobile devices. This card comes in as a little more pricey than other similar cards. However, the SanDisk Extreme Pro has storage options up to 1TB which makes it ideal if you are shooting 4K video. The card can write with speeds up to 90MB and has read speeds of up to 170MB. The mid 400 GB version should be enough for users who want to use the Galaxy S20 Ultra's camera.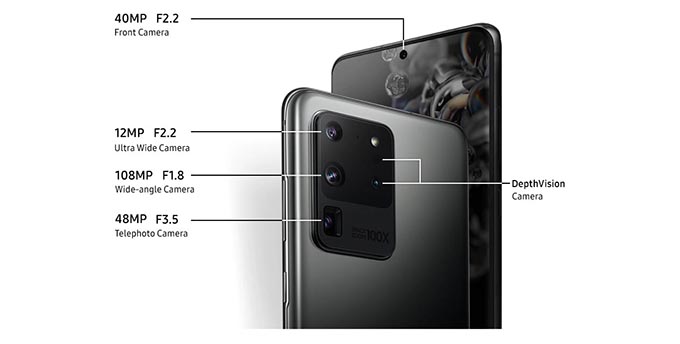 Samsung Galaxy S20 Ultra Camera
The Galaxy Ultra camera is a seriously 'specced out' affair. The top of the line camera has an impressive array of onboard camera specs and is potentially the most advanced 5G mobile phone ever released. Let's take a look:
Galaxy S20 Ultra 5G camera specifications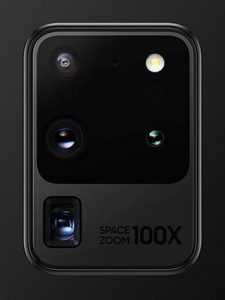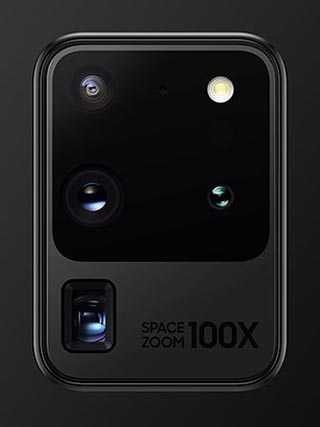 Front camera
40MP Selfie camera
PDAF (Phase Detection Auto-Focus)
Rear Camera
12 MP Ultra-Wide camera
108MP Wide-angle camera

PDAF, OIS
FOV: 79˚
Aperture: F1.8

48MP Telephoto camera
DepthVision camera
The DepthVision Camera is a Time of Flight (ToF) on Galaxy S20 Ultra that calculates the distance, depth and time to take a photograph.
Space Zoom
Hybrid Optic Zoom
Super Resolution Zoom up to 100x
Galaxy S20 Camera Modes
Samsung has added more modes to its camera specs:
Single Take – AI-based mode where the user phone camera will pan around the object while creating multiple images and a video of the object. It will recommend the best ones. Choose your favourite!
Photo – capture a standard photo on the Galaxy Ultra S20 with its high-resolution point and shoot capabilities in photo mode.
Video – shoot a video using the Galaxy S20 camera in its video mode with options of resolution and filters etc.
Panorama – move the camera in a chosen direction and it will shoot multiple images and sew them together to create a panoramic image.
Food – 'camera eats first' shoot your food before you eat – in this mode especially created for foodie photographers. It offers a tilt-shift effect that can be adjusted.
Night mode – the S20 camera will shoot in dark environments such as concerts, parties, and anywhere where it is low-light and illuminate the image by taking multiple photos which will appear brighter.
Live Focus – using the rear camera, Live Focus will blur the background of your photo adding a bokeh effect that will make your subject stand-out. (Background can be customised in post-edit).
Live Focus Video – this works similar to Live Focus in camera mode and allows you to blur the background while shooting video in real-time.
Pro Video – Samsung Galaxy S20 Ultra will feature Pro Video mode which lets you control exposure, frame rate and ISO.
Slow-motion – you can film a video and play it back with a slow-motion effect.
Hyperlapse – in this mode you can record and create a timelapse video of an event taking place.
Galaxy S20 Camera settings
The usual Samsung camera settings (at least since Galaxy S8) are here and don't include anything new to this menu.
HDR (High Dynamic Range)
Gridlines (Off, 3×3, Square)
Floating Shutting button (Adds an extra button that can be moved anywhere on the camera screen)
Motion photos (Records a short clip of what happens before each picture)
Location tags (Adds tags to photos and videos allowing you to see your location and social media software/apps to use the location tags when posting to social networks)
Quick launch (Quickly press designated key twice – usually power key) to open the camera.
AR Features
AR Doodle
Quick Measure
3D Scanner
Samsung Galaxy S20 Ultra Video specifications
Samsung has upped it's video specs for the Galaxy Ultra and its smartphone video camera can shoot in 8k resolution (8000 pixels).
If you are thinking 'surely this will take a lot of storage space' then you wouldn't be wrong. About 1 minute of shooting in 8K will take about 600MB of space, meaning a 1TB card can be filled up quite quickly.
Samsung has capped the device at 5 minutes per 8K video recording session, presumably because of the sheer amount of processing power it will take.
Most of us will still be filming in 4K or even 1080. However, the temptation to try 8K will probably be high on our list of features to test on the Galaxy S20.
Resolution
8K video recording at 24 fps
4K UHD video recording at 60 fps
1080p FHD video recording at 60 fps
720p HD video recording at 30 fps
Video shooting speed
Super steady:
The Galaxy S20 features Samsung's 'Super Steady' technology. Which means that it acts as a stabilizer when you are filming video and reduces camera shake when the subject is moving.
Slow-motion:
1080p video support at 240 fps 

Super Slow-mo 

720p video support at 960 fps

Hyperlapse 

1080p video support
Where to buy the Galaxy S20 5G
You can purchase a Galaxy S20 Ultra from the Samsung website. If you pre-order before March 8th, you will be able to claim (limited time offer) a free pair of the new Galaxy Buds+
Keep checking for more details including which networks will carry the new Samsung 5G phone.