Last updated on March 23rd, 2020 at 12:47 pm
I first tried this chocolate brownie pecan tart at a hotel where I was staying in Bournemouth. The owner (at that time) Tara Howard sent me the recipe.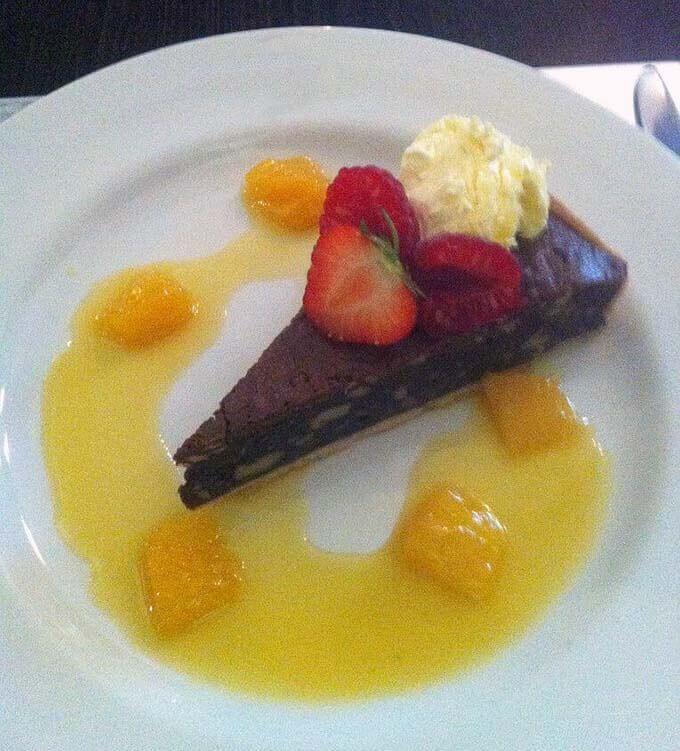 This chocolate brownie pecan tart recipe was a firm favourite of the hotel's 'afternoon tea' and a guarded secret – we can see why. It does taste wonderful and served with a dollop of ice cream and fresh in-season strawberries you will be fighting off your dinner guests for seconds.
Tart case
Ingredients
250g plain flour
35g icing sugar
125g butter
1 egg
Method for the tart case
Cream the butter and sugar together.
Add the flour and mix until breadcrumb consistency.
Add the egg and mix until a dough forms.
Turn out onto a floured surface and work for 30-40 seconds, wrap in cling film and rest in the fridge for half an hour.
Roll out on a floured work surface and place in a greased tart tin. Top with greaseproof paper and fill with baking beans and bake at 180 degrees C for 10 minutes.
Remove the baking beans and greaseproof paper and bake for a further 3-5 minutes until golden and crisp.
Chocolate brownie pecan filling
Ingredients
185g butter
150g chocolate (dark 70%)
300g sugar
3 eggs
60g flour
180g pecans – roughly chopped
Method for the chocolate brownie pecan filling
Melt the butter and chocolate in a bowl over boiling water.
Add the sugar and mix well
Remove from the heat and whisk in the eggs.
Beat in the flour.
Mix in the pecans.
Place in the tart case and bake at 160 degrees C for 20-25 minutes.
Et voila! One beautifully indulgent, chocolatey nutty tart. It should be soft and gooey in the middle when cooled and still hold its shape.
You can get 'chefy' and decorate it with fresh fruits, syrup and cream. Dressed up or dressed down, this tart is sure to impress.
Good eating!