Last updated on March 3rd, 2020 at 03:13 pm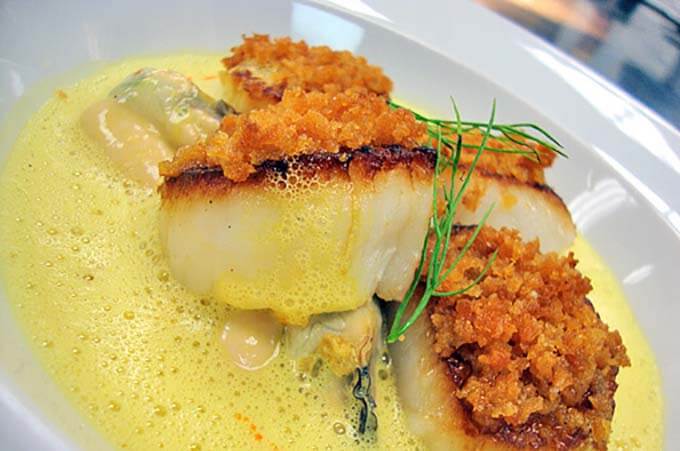 Wow, what a title, macadamia crusted cod fillet with a citrus myrtle sauce! I guess we could have whittled it down to 'nut crusted cod,' but that wouldn't be fun, would it?
Macadamia coating for the cod fillet
Ingredients
200 g  Breadcrumbs
100 g  Roasted Macadamia Nuts (crushed)
150 g Butter
4 cod fillets
Method for creating the crusted cod
Wash the cod fillet
Coat the cod filet with the butter
Combine the breadcrumbs and roasted macadamia
Coat the cod in the crumb and nut mixture
Bake the macadamia coated cod in the oven for 15-20 minutes at 160°c
Orange and lemon myrtle sauce
Ingredients
10 Lemon Myrtle leaves
150 ml Cognac/ Brandy
the juice of 6 oranges and finely grated rind
600 ml thickened cream
WHAT'S COOKING
Method for creating the myrtle sauce
Reduce the alcohol by half
Add the orange juice, rind and lemon myrtle leaves
Finish with the thickened cream
Pour a portion of the citrus myrtle sauce onto a dinner plate. Gently place the macadamia crusted cod fillet onto the sauce and serve.  This dish goes well with a medley of roasted vegetables.  Serve with a chilled bottle of Pouilly-Fumé.
Good eating!