Last updated on March 5th, 2020 at 06:52 pm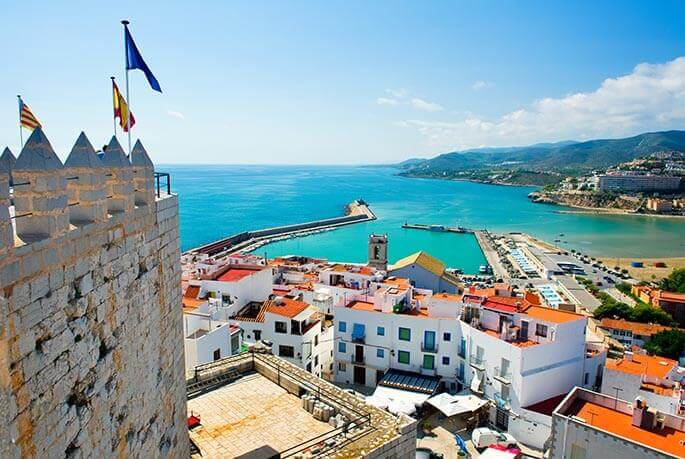 Spain is the top foreign travel destination for holidaying Brits, but the nation's love affair for all things French has taken a bit of a knock, according to various sources within the travel industry.
The place to make tracks for in Spain is Valencia – the country's fastest-growing tourist destination. The port and surrounding area have been redeveloped, one of the attractions being a new marina boasting a public promenade with restaurants, bars and a raised walkway extending 800 metres into the sea.




New additions to Valencia
Valencia airport has been enlarged, art and science park is being created and work is underway on Valencia Football Club's new, 75,000-seat stadium. What's more, the Spanish themselves regard Valencia as the best place in which to live, so it must be good.
Travel to Spain is within the comfort zone for many Brits
ABTA (Association of British Travel Agents) says many Brits as "now very familiar with and comfortable in Spain," around half-a-million of us owning property there.
"Travelling there and around is easy and inexpensive. No-frills airline routes are spread across the whole of Spain, the Spanish train system is among the best and least expensive in Europe, the bus system is regular and reliable and taxis are plentiful and cheap."
Spain city breaks
Although lots of Brits are attracted by the hot sun and lovely beaches, a growing number are sampling city breaks in places like  Valencia, Seville, Granada and Bilbao.
Balearic Islands
The Balearic islands of Mallorca, Ibiza and Menorca are the most popular areas of Spain.
Marbella
Other popular destinations include Puerto Banus, Marbella though not the once thriving 'place to be' due to overpricing, and less emphasis on entertainment.
What about France?
Britain's love affair with France, says ABTA, "is going through a bit of a rough patch at the moment," visitor figures have dropped slightly. The British, who account for one in five tourists, are the most frequent visitors. ABTA, however, is confident that the country's cuisine, wine, weather and proximity "will retain a very special place in our hearts."
Another top destination for 2008 for the holidaymakers who want longer distance is travel to China and Singapore for Formula 1.
Since last November, holidaymakers using the Eurostar have been getting Paris from London much more quickly – thanks to the opening of the terminal at St Pancras International, which is served by a new, high-speed rail line. At least 20 minutes will be shaved off each journey.
Chateaux breaks in France
Chateaux breaks – both bed-and-breakfast and weekly lets – are selling well in France. Also popular are themed activities, like skiing, golf, wine tours, city breaks and cycling.
The US, a popular tourist destination
The USA also remains a popular destination. With every £ now being worth around $2, there hasn't been a better time to cross the pond since the early 80s. ABTA says its members are reporting that demand for boutique hotels and experience-led holidays is rising.  Though as recently as August and September economic insecurity at home and abroad have made holidaymakers warier of travelling outside of the EU.
Cowboy holidays, really?
Also increasingly popular are cowboy holidays – possibly as a result of the Brokeback Mountain movie. Florida remains "a firm favourite." The 'hot' cities this year are Las Vegas, Los Angeles and San Francisco – with New York still be one of the top shopping destinations.
Italy, still a favourite British holiday destination
Italy is the fourth most popular destination for holidaying Brits and Rome the number one city in that country.
Venice
Venice, says ABTA, "has been saved from the waters by the tourist Euro, but is currently in danger of being a shell of its former self, existing only for tourists."
Sicily and Sardinia
Sicily and Sardinia are riding the crest of a tourist wave, as a result of more direct flights and "great beaches." Sicily has the added advantage of being home to Mt Etna – an active volcano renowned for its not infrequent fiery outbursts.
Greece and Cyprus, the jewels of the Mediterranean
As far as British holidaymakers are concerned, Greece has slipped from fourth to fifth most popular destination, according to official statistics for 2005.
"Numbers have stabilised, rather than fallen," continued ABTA, "the change in 'rank' probably being due to the lack of coverage by no-frills airlines which fly only to Athens.
"But Greece has much to offer, and tour operators have been revamping holiday itineraries to include adventure travel, spa breaks, island hopping, city breaks and wedding packages to prove there is a great deal more to Greece than the beach."
Cyprus has become quite popular with its rebuilding of Larnaca airport, making it much easier for British tourists to book flights directly to Cyprus and then travel to Paphos or Nicosia.
Package holidays are still alive, barely!
The package holiday is alive and well, even though more and more of us are 'doing our own thing', conducting research online and then booking flights, accommodation and car hire with different providers.
Around 18.8 million package holidays were sold in 2006, according to ABTA – "considerably more," than the number sold 10 years ago. Package holidays, however, are continuing to decline overall as a proportion of the total number of foreign holidays taken.
Almost 70 million cheap holidays abroad were taken by UK holidaymakers in 2007 and while trips to Europe have broadly stayed the same, travel to the US rose by 3% while the biggest growth is in long haul travel, up by about 10%.
Although ABTA acknowledges that customers want greater flexibility, it warns that there can be a downside to 'going it alone' and mixing-and-matching online.
"Customers are at times unaware that this change in their holiday-buying habits leaves them more exposed, both in terms of financial protection and in terms of support in a destination if things go wrong."
The demise of the Package Holiday
While it is fair to say that package holidays to European destinations is still a strong selling point within the travel industry it can also be said that 2008 saw the demise of XL Leisure Group the UK's third-largest package holiday group go out of business in the middle of the holiday season leaving thousands of British holidaymakers stranded at airports all over the world. The collapse was mainly due to the world's economic instability and the rise of fuel prices that have seen airlines such as Alitalia suffer huge losses to fuel pricing and strikes.
Holidaymakers cautious when booking a vacation
Passengers will be more wary about how they book holidays in the future and we may see a return to less emphasis on packages and more on individually created holiday plans – even if it means paying a higher price and travelling less.  Until then Spain and other such European destinations will remain a top favourite with the British for ease of distance and time.