Last updated on March 5th, 2020 at 07:00 pm
This is our fourth visit to the Hotel Du Centre in Wimereux. The restaurant downstairs appears to be a mainstay of the Wimereux community where you'll often find locals enjoying the traditional French cuisine at either lunch or dinner time.  Not once have we visited when the restaurant hasn't been completely full, mostly with French clientele.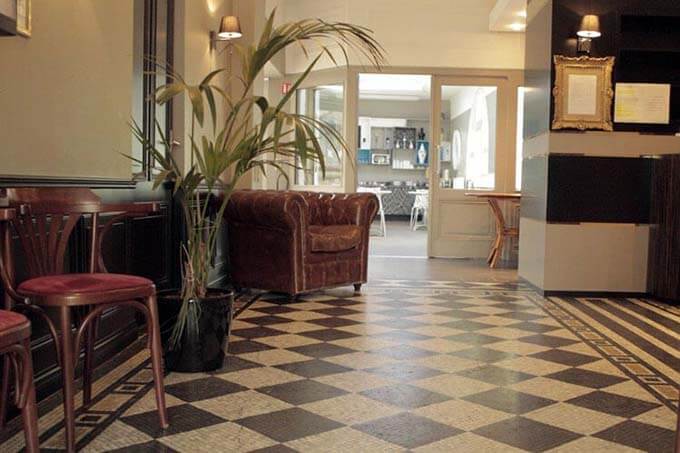 Old world friendliness
Jean-Marc is the proprietor of the Hotel du Centre. He's a lovely man.  Polite and friendly with a good knowledge of the English language, which is great for those of us who speak little more than our mother tongue!




Hotel du Centre, an everyday hotel
If you're looking for all-mod-cons, then Hotel du Centre is not for you. It's an everyday hotel that has weathered the test of time!  Sure, it could do with a lick of paint here and there, and perhaps a couple of other upgrades, but it's a hotel of character, no doubt filled with many stories from days gone by!  However, what Jean-Marc does offer his clientele is clean and tidy rooms, comfortable beds, small yet everything you need bathrooms, free safe parking off the main road (at the back of the hotel) and quiet surroundings.  You'll get free internet access here too, for which you'll be given your own individual password! Continental breakfast is available for an additional fee too!
Short stay convenience in Wimereux
Hotel du Centre is a great hotel for a short trip or perhaps 4 of 5 days by the sea.  It's not however somewhere to take your lady love if you wish to truly impress her, or where you'll want to spend lots of time in your room.  It's the perfect location in which to leave the car and spend a few days wandering the streets of this small town in Northern France that's just a few minutes walk to the beach.
In the centre of it all
Just across the street, you'll find a couple of decent bakeries like the very good Au P'tit Pâtissier with the freshest bread you're likely to taste anywhere, cooked right on the premises. As well as a wonderful deli up the street that sells some fabulous selections of wine at greatly reduced prices, and a host of pungent flavourful cheeses.
Breakfast at Hotel Du Centre, Wimereux
Unfortunately, breakfast lets the Hotel Du Centre down. We would strongly suggest going elsewhere for your morning refreshments as breakfast at the hotel consist of plain bread, processed style meat and some cheese. The coffee is mediocre at best, and if you feel like sitting on 1970's style Tupperware chairs then this is it.
Hotel du Centre, as it so rightly states, is right in the centre of it all.  So next time you're looking for a cheap but comfortable hotel that's just 35 minutes from shopping at Carrefour, 20 minutes from the wine warehouses, and the Eurotunnel Terminal, perhaps consider Jean-Marc's hotel close to the sea.
How to get to the Hotel du Centre
If you are driving then I suggest via the Eurotunnel. It's about a 40-minute drive from Calais to Wimereux and petty much a direct route via E402 – A16 then turning off at Wimille and follow the signs for the town centre.
Hotel du Centre
78 rue Carnot
62930 Wimereux
France
Tel: +33 (0)3 21 32 41 08
For more information visit their Centre hotel website