Last updated on April 12th, 2023 at 05:14 pm
In a coup of numerological (and bibliographic) symmetry, Lemony Snicket delivered the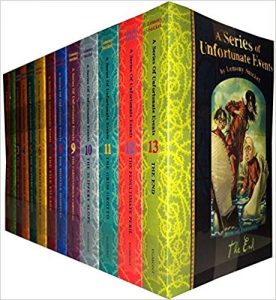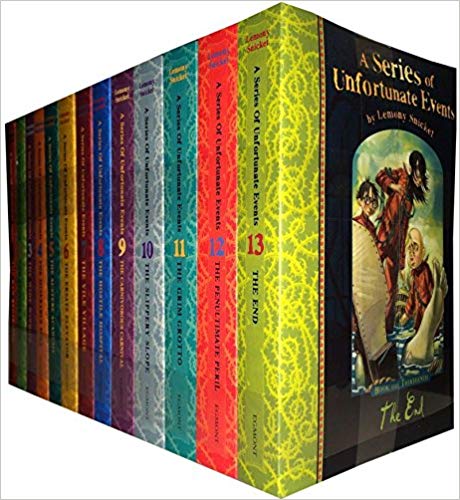 final instalment in the A Series of Unfortunate Events series this past Friday, October 13th — 13 books, each with 13 chapters. Unlucky, indeed, for Snicket fans far and wide.
I celebrated the unhappy occasion by embarking on The Bad Beginning, the first book of the series. I admit I was reluctant to see what all the Snickety fuss was about. But Alexandra, head of the book ordering department at Olsson's, sung the series' praises so mellifluously, that I couldn't resist. And she was right on key.
The Bad Beginning
The Bad Beginning begins the saga of the Baudelaire children, an unfortunate trio whose parents meet their untimely death in the first pages. The orphans are shepherded to a specious "relative," Count Olaf, whose Machiavellian schemes to rob the children of their fortune drive much of the action.
But Snicket's style is what makes this series remarkable — and what gives it its ageless appeal. The Bad Beginning is firmly rooted in the classic fairy tale. Time and place are obscured. For example, the Baudelaires are ferried to Count Olaf's over streets paved in cobblestones. They note the clatter of coach wheels and horse hooves alongside the buzzing thunder of a motorbike. Creepily detailed illustrations by Brett Helquist (who is this mysterious man??) add to the fanciful gloom.
Snicket explores the conflict between good and evil. And he philosophizes on the happenstance of ill-fate. Still, it's Snicket's dark irony that won me over.
Not just for adults
As I said, A Series of Unfortunate Events holds appeal in equal measure for children and adults. Snicket takes the time to explain tricky words or sophisticated phrases, but he does so in a way that will give pause (and perhaps smiles) to even the most seasoned of readers, encouraging them to reflect on the layered complexity and nuance of our language.
Have you read: Frankenstein – The Modern Prometheus
As in, "This is one reason many lawyers make heaps of money. The money is an incentive — the word "incentive" here means "an offered reward to persuade you to do something you don't want to do" — to read long, dull, and difficult books".
Cultural and literary references also abound. The Baudelaires are warned, for example, never to let the exotic Virginian Wolfsnake anywhere near a typewriter. And I love the recurring theme of refuge the orphans — especially Klaus — find in libraries.
I also like how Snicket handles danger. If a character, such as the unfortunately named Dr Montgomery Montgomery, finds his life in peril, rest assured that Snicket has given us plenty of warning. Yes, these are unhappy stories. Snicket warns us often enough that if we want a tale with a happy ending, we should read elsewhere. But what would be the fun in that?
I'm afraid that in this case, I must bid you unhappy reading.
Until next time.
---
Elizabeth Frengel is a curator of rare books at The University of Chicago Library Book Arts and History