Last updated on March 7th, 2020 at 07:15 pm

A visit to the Great Dorset Steam Fair and a stay at Cavendish Hotel in Bournemouth.
With the British summertime nearing its end, and the idea of attending the Great Dorset Steam Fair, I thought it a good time to take a few days off and head for the beautiful Dorset coast.
Searching for a B&B in Bournemouth
I was looking for a Bed and Breakfast in Bournemouth since the city has so much to offer its visitors ranging from its beautiful sandy beaches to great nightlife and entertainment, as well as its close proximity to the Dorset countryside.
I also required accommodation that would offer all the comforts of home without breaking the bank.
Cavendish hotel; the perfect location to the beach
I found the most delightful family-run Cavendish Hotel, a bed and breakfast in Bournemouth situated in the downtown West Cliff area, as I wanted to be near to the beach and ensure parking.
With their friendly manner, and comfortably decorated rooms it was the perfect location for me to stay, and to top it off they serve their award-winning traditional English breakfast each morning in the hotel restaurant.
Breakfast at the Cavendish
During my stay I was enticed by the delicious bacon, eggs, hash browns, baked beans and toast, all washed down with a cafetiere of strong coffee – the only way to start the day when on holiday, don't you agree?
The Cavendish hotel is only a short walk to Bournemouth Beach, and also close-by is the main shopping centre. Bournemouth also has many beautiful Parks and Gardens where one can either choose to sit back and watch the world go by or enjoy a leisurely stroll delighting the senses with all that nature has to offer.
The Great Dorset Steam Fair?
The main reason for my trip was to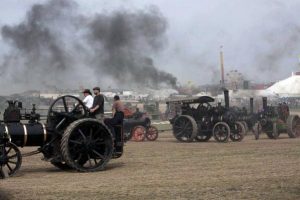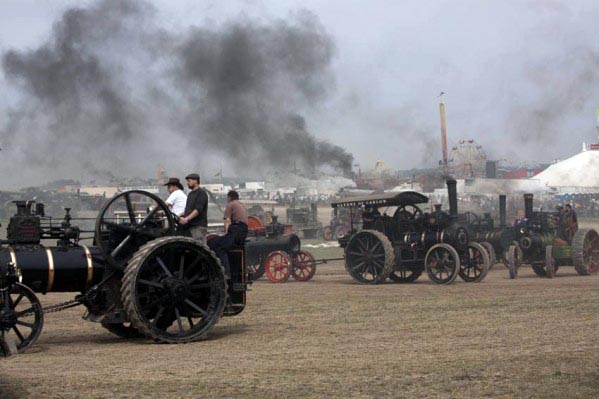 attend the Great Dorset Steam Fair in Tarrant Hinton, and what a sight for the eyes, and surprise to the nostrils it was!
All those steam vehicles certainly blacken up the sky with their endless streams of steam and filled one's head with not only the sound of the steam horns but also the smell of all that burning coal (environmentalist cover your ears now).
Literally, thousands of excited steam vehicle enthusiasts descend upon this small town in Dorset each year to enjoy the stunning machines that roll on by, and which have been so lovingly taken care of by previous and current owners.
Watch as father and son, or husband and wife polish up these massive steel steam beasts with their sparkling brass, and beautifully maintained engines.  It's such an impressive sight and even if one is not a fan of 'the horseless carriage', this event is something quite special and out of the ordinary, a must-see if you are ever visiting Dorset in early September.
Next year's Dorset Steam Fair event runs from August 31 – September 4 – that's 2011!
After a fun-packed day; back to the Cavendish hotel
After an exhausting day, one in which all my senses took part, for there was not only the wonder at all those incredible steam machines, but also a huge selection of food stalls and eateries to indulge the taste buds, plus the delights of the funfair –  just in case you were not enthralled enough by everything else on offer.
I made my way back to Bournemouth and to the comfort of my lovely four poster bedroom at the Cavendish hotel for a blissful night's sleep, ready for another action-packed day to follow.
Save