Last updated on March 27th, 2020 at 06:13 pm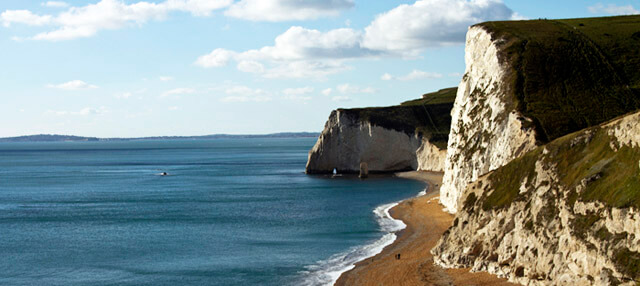 No matter what time of year you visit the beautiful county of Dorset, there's one place that can't be left off your list of things to do, and that's a visit to Lulworth Cove. It's just a 50-minute drive from Bournemouth and you'll enjoy some absolutely fabulous scenery along the route.
Jurassic Coast
A stunning location that sits on the rugged and picturesque World Heritage Jurassic coastline, horseshoe-shaped Lulworth Cove is home to the much-photographed natural rock arch, Durdle Door.
Surrounded by several expansive beaches, this is the perfect location for a leisurely, if somewhat strenuous coastal walk, year-round.  Though it should be noted that the beaches to the east, Mupe Bay and Arish Mel are only open at weekends and throughout the month of August due to being located on the active Lulworth Army ranges. Beaches to the west are Middle Beach and Durdle door which are open year-round.
Fossil hunting, discovering the past on the Jurassic coastline
Keep your eyes peeled for stunning rock formations and fossils that can be found throughout the area which date back to prehistoric times!
Places to stay in Lulworth
Booking a hotel or any kind of accommodation in Lulworth can be hard. This is due to rooms being snapped up fairly quickly.  Each time we have visit Lulworth Cove we have used Booking.com to find the best rates and availability of hotels near Lulworth. We generally like to stay on the outskirts in Wareham where is a bigger selection of hotels, B&B and more places to eat.
Things to do in Lulworth
Quaint Lulworth village beckons visitors with delightful traditional tea rooms, ice cream parlours, restaurants and cafes.  Or perhaps take the weight off your feet as you sit on the shore at Lulworth Cove, sheltered from the coastal winds and enjoy the unending view out to sea.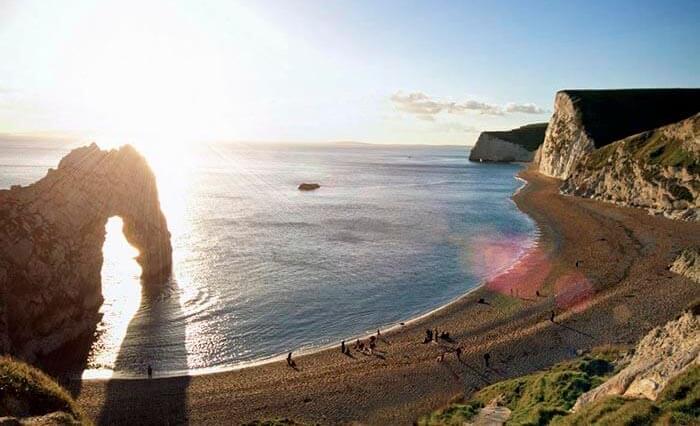 For those interested in history, a visit to nearby Lulworth Castle and Park is a real treat.  Dating back to the early 17th century the Jacobean style castle, built as a hunting lodge by Thomas Howard where he entertained the King's hunting parties. Also on the grounds, you'll find what has been referred to be one of the finest examples of architecture in Dorset, the Chapel of St. Mary's.  Where in 1790, the very first bishop of the USA was consecrated.
There is much to see and do in and around the Lulworth area so set your GPS from the to Lulworth Cove and sit back to enjoy the miles and miles of farmlands and rolling hills that'll pass you by as you drive on out to the headland and all that puts the Great back in Britain!