Last updated on March 10th, 2020 at 08:18 pm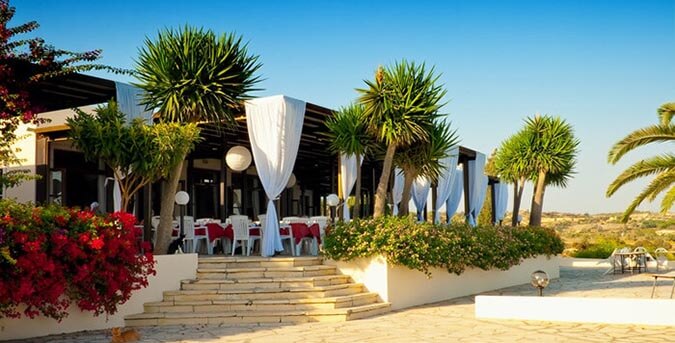 Cyprus is the third largest Mediterranean island and a popular holiday location.
Cyprus is heavily dependent on tourism and attracts hundreds of thousands of tourists every year, drawn to its sunny climate, and gorgeous beaches. It offers holiday and business accommodation; from backpackers who enjoy the seclusion of recently-restored inland village guest houses to executive accommodation in luxurious 5-star hotels.
Ancient Cyprus
Cyprus' archaeological treasure trove dates back to the Bronze Age and boasts tombs, mosaics and relics spanning the ages – many have been restored; others are found in museums in Nicosia, or the western resort of Paphos.
Cyprus holiday travel
Cyprus has much to offer the vacationer. The Jewel of the Mediterranean offers broad-spectrum satisfaction in terms of vacation activities.
The people of Cyprus' (Cypriots) have come to terms with tourism and because of their relaxed, bonhomie, the visitor immediately senses an uncontrived reception. As an island, Cyprus once relied upon her natural defence – the sea – but this is no longer its primary port of entry, deferring now to the principal gateways of Larnaca and Paphos international airport that supports not only tourism, also importantly acts a gateway for international business.
Activities and places of interest in Cyprus
Being an island, it is only natural that Cyprus should offer a variety of shorefront and water activities for vacationers. Its coastline offers miles of sandy beaches as well as cliffs and caves to explore – especially underwater.
Scuba diving
There are numerous scuba diving opportunities and some 50 or so dive sites along the southern and western coasts. Paphos is home to a number of independent diving schools but many of the more up-market hotels have in-house diving schools.
Shore dives in shallower waters offer grotto experiences although the more adventurous will appreciate the deeper dives to the two wrecks, the Vera K and the Achillias, lying in 11 meters of water.




Larnaca
Larnaca, on the eastern side of the island, features the wreck of the Zenobia, an almost-new huge car ferry scuttled as a shipping hazard after a ballast tank flooded just out of harbour, now resting in an average 25 meters of water, 1400 meters offshore and well worth a visit by the more experienced diver.
Other wrecks, like a patrol boat, a private yacht and a timber freighter, can be found dotted about the shores, and a number of diving schools operate scheduled trips to these sites.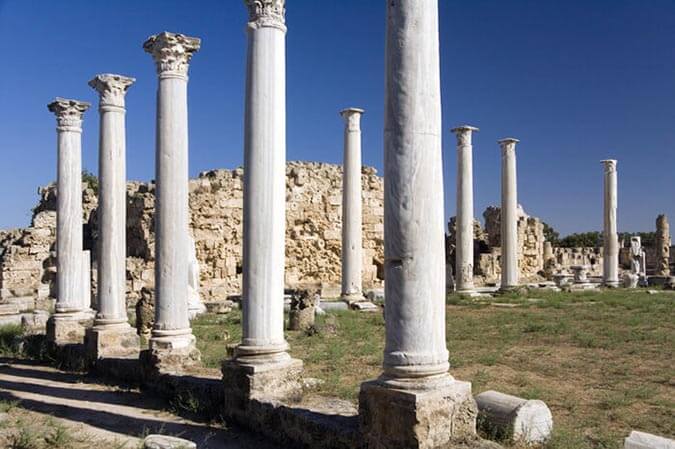 Paphos
Back on dry land, there are numerous places of antiquity to visit, especially around Paphos, probably the more famous of which are the various Roman houses located near the harbour, home to exquisite mosaics. The House of Dionysus, discovered in 1962, dates back to the 2nd or 3rd century, it's flooring depicting mythological scenes and geometric designs.
Paphos was once the first port of call from early BC centuries ago but now defers to Limassol, maintaining both freight shipping and cruise liners – and the occasional military frigate. The remnants of Paphos harbour – a Byzantine fort, rebuilt by the Lusignans then stripped and strengthened by the Ottomans – plays its part in the island's principal resort.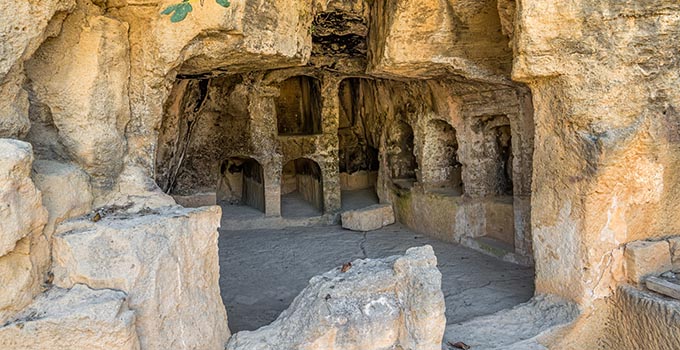 Tombs of the Kings
North and to the west near Paphos lighthouse lies the Roman Odeon amphitheatre, while further along the coastal road lies the Tombs of the Kings. Although described as such, they were carved over a period of 600 years from solid rock as family graves for the dignitaries of the region.
How many tombs in the Pathos Tombs of the Kings?
Eight groups of tombs worthy of note have been itemised, with numbers 3, 4 and 8 being the more elaborate structures. Individual tombs in alcoves and niches are reached by passages in sunken courts, some featuring Doric columns, again all hewn from solid rock.
Excavation continues to this day as burial mounds are unearthed across the site; however, there is little likelihood of treasures being discovered since all would have been long ago looted.




Tourism and growth in Paphos
Paphos has grown rapidly in popularity from the late '80s, as has much of the island, evidenced by furious construction work and refurbishment to hotels, stores and restaurants in key tourist areas like Coral Bay and, indeed, along the whole of the western coastal shoreline.
UNESCO added the whole of Paphos to its World Cultural Heritage List, not an extravagant but sensible concession, given the number of ancient artefacts, relics and monuments, dotted throughout and around Paphos and the surrounding district. Mosaics, tombs, pillars, churches, caves, coves, catacombs… many now housed in the two museums in Paphos old town.
Paphos is an archaeological treasure trove and remains so under tireless excavation to the present day.
Cyprus hotel accommodation, best places to stay
There are a large number of hotels, B&B's and other types of accommodation in Cyprus, all vary in price. We find booking in-season can be quite expensive (which is the norm), however, there are deals to be had and if you book a hotel out of season or later in the year then you can find some good deals.
Cyprus a popular travel destination for the British
Holiday travel to Cyprus has become increasingly popular with British and other European holidaymakers wanting alternatives to holidays in Spain. With an abundance of hotel accommodation that suits most budgets, it is no wonder that Cyprus is high on the travel list for European vacations.