Last updated on December 8th, 2020 at 01:51 pm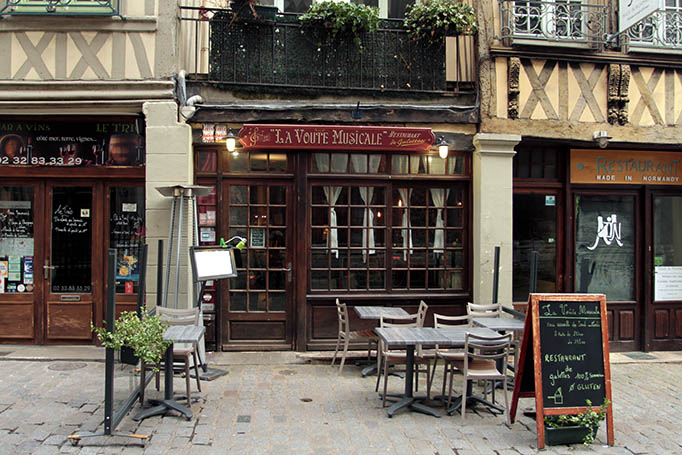 A weekend break in Rouen, France
Steeped in early European architecture, Rouen (pronounced roo-ohn) is the capital of Normandy and is home to some of the most beautiful buildings and churches in Europe. With its charming cobbled streets, half-timbered houses, the Notre-Dame Rouen Cathedral, and the striking Gros-Horloge astronomical clock, there is much to fill the senses in this city flanked by the Seine River.
Why a weekend break to Rouen?
We have spent several long weekend breaks in Rouen. It's close enough for us to drive (from Kent) without feeling exhausted upon arrival. The city is small enough to find your way around in no time at all.



There is so much to see and do in Rouen – whether you wish to wander the streets visiting different neighbourhoods. Maybe try a site-seeing tour, and enjoy eating and drinking at the many restaurants throughout this city that sits on the River Seine in Normandy.
Folkestone to Calais via the Eurotunnel
Living in Kent has its benefits; especially with the Eurotunnel almost on our doorstep, getting to Calais is relatively easy. You can buy a ticket from Eurotunnel le shuttle online.
On arrival at the Eurotunnel, we check-in using our pre-booked ticket via the automated gatekeeper. We drive to the Victor Hugo terminal, where we wait for our assigned 'letter' for boarding the car on the train.
On the road to Rouen
There are two routes when travelling to the city of Rouen from Calais; either the A16 – the journey is approximately 131 miles and will take around 2 hours, with Péage tolls of Euros €8.50. The second route is the A28, slightly longer – 140 miles and taking up to 3+ hours, though Péage tolls will only be €3.00. Both directions are easy to navigate, take your choice!
Parking in Rouen
Once you arrive in Rouen be aware that there is a one-way system, so it can be a little confusing. Some streets have electronic bollards that require a security code for access. There is ample public parking around the city, and many of the city centre hotels also provide private paid parking which we prefer for security reasons.
Hotels in Rouen – our recommendations
As you would expect from a tourist city, Rouen has many good hotels, and all within easy walking distance of the major attractions, shopping and restaurants.  Note: If you require hotel parking, you will need to dig a little deeper as some of the centrally located hotels do not provide parking space.
There are two hotels that we highly recommend for a weekend break in Rouen – Hotel Mercure Rouen Centre Cathedrale, and the more luxurious Hotel de Bourgtheroulde.
Hotel Mercure Rouen Centre Cathedrale
We returned to the Mercure on several occasions due to the level of service provided, the comfort of the hotel, excellent breakfast, proximity to everything, and affordability.
The Mercure privilege upgrade
We were offered a deal to upgrade to a Mercure privilege room complete with a view of the cathedral from the balcony. It's definitely worth paying a little extra for the great view, and to experience the sound of the cathedral bells nearby.
An upgrade includes a larger room with balcony, bigger bed, high-speed internet, a Nespresso machine! (We liked it so much that while still in Rouen we purchased one online from John Lewis).
Breakfast at the Mercure hotel
The breakfast buffet at the Mercure hotel is more than generous with a huge selection of fresh fruit, bread, pastries, cereal, hot and cold meats and other food options, including a full range of fresh juices, coffees, teas and more. You won't go hungry when you breakfast at this hotel!
Mercure Hotel Rouen best rates
We find booking directly with the Mercure hotel gives us the best rates. Also, like most hotels, they prefer this and tend to look after you a little better than going via 3rd arty hotel portals.
Mercure hotel location
The address of the hotel is:
Hôtel Mercure Rouen Centre Cathédrale
7 Rue Croix De Fer,
Rue des Arsins,
76000 Rouen, France
Hotel de Bourgtheroulde
Staying at the Hotel de Bourgtheroulde is something a little more special. Elegant bedrooms, luxurious linens, and stunning bathrooms with walk-in shower/wet-room are all standard here. Attention to detail, comfort and a high level of service are all to expected when you pay a little more for your accommodation, and we were not disappointed.

Breakfast at the Bourgtheroulde hotel
The breakfast buffet at the Bourgtheroulde is one of the best. Just about everything you could desire is on the menu. Help yourself and enjoy eating like a king, or queen until you have had your fill. Breakfast staff are helpful and attentive too!

Bourgtheroulde spa treatments & cocktails
We booked a couple of massages and face treatments at the in-house Spa. Very professional and recommended. There's also an indoor pool, and gym that guest can use. And in the evening, drop by the fabulous cocktail bar to enjoy a few (expensive) drinks before retiring. You'll occasionally get to enjoy some live music too.
Bourgtheroulde hotel location
The address of the hotel is:
Hotel de Bourgtheroulde, Autograph Collection
15 Pl. de la Pucelle,
76000 Rouen, France
Things to do in Rouen
Historic attractions
Even though Rouen is a mix of old and new, the more modern shops and businesses are integrated and tightly woven into Rouen's history. It is easy for the imagination to come alive and get a real feel for how it would have been to live in medieval Rouen.
Rouen Churches & Cathedral
On our first trip to Rouen, I was surprised to find so many churches in one small city. I wandered around these impressive huge gothic buildings, pondering what life must have been like for those who attended church in medieval times – I imagine cold and damp – and all the worshipers who attended services to warrant the need for so many religious centres.
Try to visit some of these beautiful churches during your weekend visit to Rouen:
Eglise Saint-Maclou, 7 Place Barthelemy

Rouen Cathedrale, Notre-Dame, 3 Rue Saint-Romain

Abbatiale Saint-Ouen, Place du General de Gaulle

Eglise Saint-Jeanne-d'Arc (Joan of Arc), Place du Vieux Marche
Church of St Joan of Arc
L'église Sainte-Jeanne-d'Arc is the burial location of Joan of Arc. Directly outside the church is a small garden that marks the exact spot where Joan of Arc burned as a heretic.
When you visit Rouen, the church is a must-see. The building is quite modern although it still retains its feel as a church with magnificent stained glass windows that came from the church of St Vincent that was destroyed by the Germans in WW2 during a bombing raid.
Church of Joan of Arc location
The address of the Joan of Arc memorial and church is:
L'église Sainte-Jeanne-d'Arc 
Place du Vieux Marché,
76000 Rouen
Musée des Beaux-Arts de Rouen
If you are a lover of art, then you won't be disappointed by a trip to view some of the outstanding pieces at the Musee des Beaux-Arts in Rouen. It is said to have one of the most exceptional public collections in all of France, including masterpieces by Degas, Delacroix, Monet, and Gustave Moreau.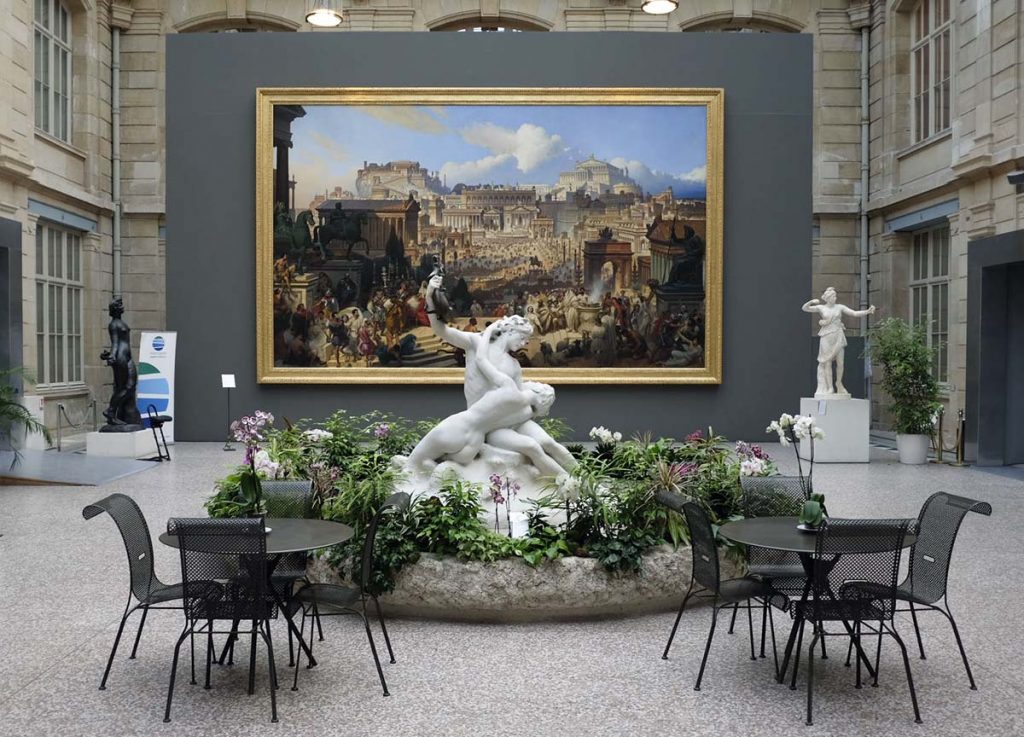 Each time we travel to Rouen, we put aside a few hours to enjoy the calm and peace that the museum offers. There are always special exhibitions, a gift shop and café to enjoy.
Musée des Beaux-Arts location
The address of the Rouen fine arts gallery is:
Musée des Beaux-Arts de Rouen 
Espl. Marcel Duchamp,
76000 Rouen, France
Aitre Saint-Maclou (Ossuary of Saint-Maclou)
From the beauty of art to something a little more sinister.
After a visit to the Cathédrale Notre-Dame de Rouen, we came to the courtyard of death that was marked by ancient sculptures depicting the plague that swept throughout Europe. The area was a makeshift cemetery to bring the dying during the epidemic of 1348. In true Gothic fashion, the sculptures depicted the plight of these people and the plague that ravaged them.

It's a strange, slightly unsettling place to visit but one you should add to your things to do on your weekend in Rouen list. It is the burial place of thousands of Rouen inhabitants who died as a result of the Great Plague in 1348. Three-quarters of those who lived in this area lost their lives to the Black Death.
The black death in Rouen
We saw old shop at the beginning of the Courtyard that gave the appearance of how one would imagine the shops and businesses of Rouen to be in the 1300s.
As you walk into the central courtyard of the Aitre Saint Maclou, you will see gruesome carvings of macabre objects of skulls, bones, femurs, shovels and other burial instruments that adorn the exterior of the buildings. Most of the bones were moved to Mont Gargan cemetery on Cote Sainte-Catherine in 1780 – when France banned urban burial sites.
In March 2016, as renovations were about to take place, archaeologist uncovered several more skeletons and bones under the central courtyard. It is currently a memorial and reminder of those who died there.
Keep your eyes open as there are a few surprises to be seen!
Rouen Christmas Market
If Rouen is where you find yourself at Christmastime, then a visit to the Traditional Christmas Market is in order. The market takes place outside the Rouen Cathedral; traders sell their artisan confectionery, mulled wine and cider, handcrafted Christmas decorations, gifts and other seasonal goodies.
As the sky starts to darken on a late December afternoon, there's nothing more inviting than the brightly lit market stalls offering warming tasty Christmas delights.
Eat & Drink Your Way Around Rouen
No weekend break in Rouen would be complete without sampling some of the inviting local restaurants and cafes. Here are a few of our favourite Rouen eateries:
Citizen Coffee
If you are looking for a cool place to grab a coffee, eat a healthy, tasty breakfast or brunch at a reasonable price, then Citizen Coffee is the place to go. The Avocado Toast is a favourite of ours, and you can mix it up with a selection of delicious sides – yum!
Coffee is excellent – large cups to keep you going all day long! The décor is simple yet stylish, and there is a happy, relaxed vibe, no matter what time of day you visit.
Note: it can get busy so there may be a short wait for a table, but it's definitely worth the wait! Drop by to check Citizen Coffee out for yourself
Citizen Coffee location
Citizen Coffee is open Monday – Saturday from 9.00 – 19.00. Their address is:
Citizen Coffee
4 Rue de l'Écureuil,
76000 Rouen
Payiz – Lebanese restaurant
On our very first visit to Rouen, we were wandering around the streets, checking out the different neighbourhoods when we stumbled on this little gem. Payiz is a small (intimate) family-run Lebanese restaurant in central Rouen. You will receive a warm and friendly welcome, excellent service and enjoy some of the best Middle Eastern food in Rouen.
All the food is freshly made in the Payiz kitchen, including the refreshing flavours of tabbouleh, creamy hummus, freshly baked bread, deliciously juicy and perfectly seasoned kebabs and falafel.
Treat your taste buds to some excellent Lebanese / Persian cuisine!
Payiz location
Payiz is open for lunch and dinner Monday – Saturday. Their address is:
Payiz 
9 Rue de l'Hôpital,
76000 Rouen.
Fujiya Sushi
There are a few sushi restaurants in Rouen; Fujiya Sushi on Rue Sainte-Croix-des-Pelletiers is the best choice for quality, value for money and ambience.
With a large and varied selection of freshly prepared sushi and sashimi, hot dishes and accompaniments, you will be spoilt for choice. I'd go as far as to say that we found the portions on the large side, so order wisely – you can always come back for more later! The service is usually quick, even when busy. It's a fast turnaround here, so no warm and fuzzies but great sushi nonetheless.
Fujiya Sushi  location
Fujiya Sushi is open for lunch and dinner Monday – Sunday. Their address is:
Fujiya Sushi 
14 Rue Sainte-Croix-des-Pelletiers,
76000 Rouen.
Millésime – winebar and restaurant
A weekend break in Rouen wouldn't be the same without a visit to our favourite winebar, Millésime, a special place we found on our very first visit to Rouen. It's an absolute MUST for those who enjoy good wine, and if you don't know what that is, then the owner, Phillipe Valet will be more than happy to share his expertise with you. French-born (with a little time spent in Australia), Phillipe is a great character who loves what he does and will always make you feel welcome.
The best burger in Rouen
Did we mention the fact they cook one of the best burgers in Rouen, and you have a perfect combination for a great night? You can find Phillipe and the Millésime team in downtown Rouen.
Millésime location
Millésimeis is open for dinner Monday – Saturday. Their address is:
Millésime 
26 Rue du Vieux Palais,
76000 Rouen

Bar des Fleurs – no-frills brasserie – great omelettes
What we love about Bar des Fleurs on Place des Carmes is their no-nonsense approach.
A simple brasserie/café/bar that is frequented by the locals, so you know it can't be bad. Casual in every way, Bar des Fleurs are open Monday to Sunday – a rare thing in Rouen. I order the same thing every time I visit, the Cheese and Ham Omelette and Frites – it's the best –nothing fancy here! Just the basics. However, the menu is extensive, offering a whole array of traditional French dishes – mostly with fries! Portions are ample, and service is usually fast.
Bar des Fleurs location
Bar des Fleurs is open from 9 am. Their address is:
Bar des Fleurs
36 Place des Carmes,
76000 Rouen
Restaurant des Beaux Arts – Moroccan
If you are looking for a comforting home-cooked meal, then look no further than Les Beaux Arts on Rue Damiette, Wow, the taste buds rejoice as you sample the delicious Moroccan flavours created in the Beaux Arts kitchen. Tender perfectly prepared meat dishes that melt in your mouth. The menu has many vegetarian dishes too, so there's something to suit all tastes, and portions are generous also! Friendly, polite staff and excellent service too, all at reasonable prices.
Restaurant des Beaux Arts location
Restaurant des Beaux Arts is open for lunch and dinner Monday – Saturday. Their address is:
Restaurant des Beaux Arts
34 Rue Damiette,
76000 Rouen, France
Michelin Star Restaurants in Rouen
There are many exceptional, high-end restaurants in Rouen including the 2 Michelin star restaurant Gill, 1 Michelin star L'Odas, and the 1 Michelin star Restaurant Rudolphe. Why not add these to your restaurant list next time you visit Rouen.
That's it for our weekend break in Rouen
Well, now we've done all the research – isn't it time to review your calendar and find an appropriate date for that long weekend break in Rouen?
We enjoyed our time in this city, especially now we know it so well. It is so easy to get around. You don't need a car since pretty much everywhere is in walking distance – what's not to love about that? Though if you do find yourself wanting to get out of town, Paris is only 1½ hours away by car. Hop on the motorway, and you'll be there in no time.
But right now, Rouen is calling. We hope you enjoy your trip to Normandy as much as we do every year. Happy Travels.