Last updated on January 23rd, 2020 at 11:20 am
So last weekend I got to see Neil LaBute's most recent social hiding, This Is How It Goes, at The Studio Theatre on 14th Street. If you're not familiar with the work of LaBute (In the Company of Men, The Shape of Things, Fat Pig, among many others), there are a few things you oughta know.
Things you should know about LaBute
Don't go there if you don't want to have your faith in the integrity of a civilized society stomped on. And likewise, stay away if your blood has a low boiling point.
But if you like realism and contemporary social commentary a step or two above so much of the tripe on TV, LaBute is your man. His dramas cut right to the perverse games people play at work, in relationships and inside their heads.
This Is How It Goes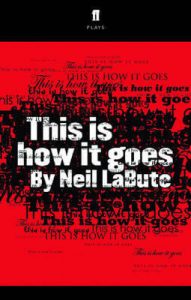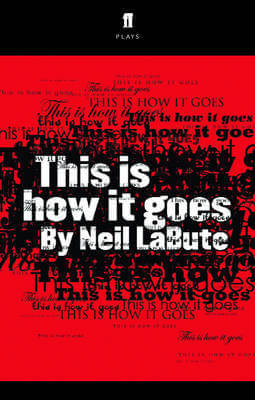 This Is How It Goes is ostensibly a play about racism; or, to tell it another way, it's a play about how perspective radically changes the way one sees and tells a story.
The main character, called Man, leaves his job as a lawyer and goes back to his hometown where he "bumps into" a longtime crush, Belinda, who's married with children to her high school sweetheart, Cody. Cody's now a successful businessman. He's also black. Belinda is white. The Man is white. We also find out that the Man was picked on for being fat when he was a kid. Turns out Cody was the main antagonist.
No surprise that when the Man moves into Cody and Belinda's garage-apartment, a modern-day revenge tragedy ensues. LaBute moulds this play with lots of clever layering. For instance, the Man accuses Cody of playing the race card, all the while the two of them haggle over a rare Jackie Robinson baseball card. There are also sly allusions to Thomas Hardy's The Mayor of Casterbridge and the oeuvre of Alfred Hitchcock.
But be forewarned: the Man goes on more than one racist rant that'll make your hair stand on end. Eric Feldman plays the Man onstage, and he gave the character an irksome nervous laughter; which, when I thought about it later, was probably designed to make the audience feel uncomfortable, much like the words that come out of Man's mouth.
Also abhorrent is the way these two view Belinda: a trophy with more than a little tarnish.
Fat Pig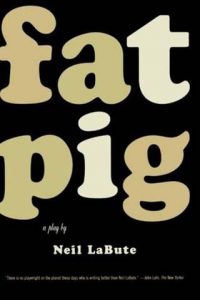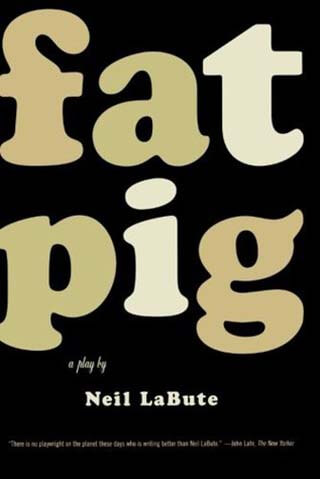 It's much the same in Fat Pig (even the title is in your face), when Tom, a twenty-something, hoops-shooting, just-one-of-the-regular-office-guys falls in love with a plus-size woman only to succumb to the sadistic pressure of his shallow coworkers. I don't think I've ever met a more despicable guy in fiction than Carter. But Jeannie, Tom's ex, is horrible, too.
LaBute has been blasted by some critics for the unapologetic sexism that runs through most of his drama. And indeed — Hang on. SPOILER. If you're going to see this play before it closes, STOP READING NOW. Look away. Skip directly to the next paragraph. — the drama of This Is How It Goes hinges on a man trading his wife for a baseball card.
But I'd say LaBute has a sharp eye for hypocrisy, and this play displays that trait so inherent in humanity in a ghastly shade of limelight. Yes, it makes one a bit sick. But it's truth-telling one can't help but marvel at because it's so sharp. I'd venture that that's why LaBute's work gets people so fired up.
In plays like Fat Pig and This Is How It Goes, LaBute dares to give voice to all those ugly things that propel the human tendency toward grasping selfishness and approval-seeking.
Sexism. Racism. Ageism. Fatism. They all exist, and LaBute does a remarkable job of reminding us that pretending they don't turn out to be one of the worst forms of hypocrisy. He also says rare are the people who can stand up for what they believe in.
But, grim message aside, his plays make fascinating reading. You'll plough through any of these scripts in just an hour or two.
More about Neil LaBute 
---
Elizabeth Frengel is a curator of rare books at The University of Chicago Library Book Arts and History