Last updated on April 12th, 2023 at 05:02 pm
Okay, this one didn't make "Our Ten Favorite Books of All Time" list, and we are remiss.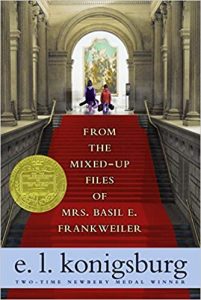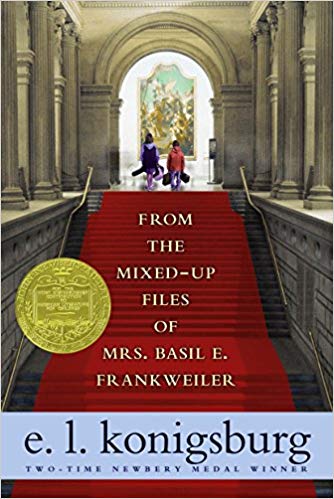 But Alexandra (head of order processing) and I both agree that E. L. Konigsburg's From the Mixed Up Files of Mrs. Basil E. Frankweiler is a brilliant read, no matter what your age.
The mystery from the mixed up files begins with the letter famously addressed "To my lawyer, Saxonberg." And from there unravels the (short and fast-paced) saga of Claudia and Jamie Kincaid. Claudia sets out to teach her family a lesson in "Claudia appreciation" and decides to run away. To the Metropolitan Museum of Art. But she needs an accomplice and financier, which is where her kid brother Jamie comes in.
The two are a perfect complement — "She was cautious (about everything but money) and poor; he was adventurous (about everything but money) and rich" — and this story is as much about the subtle harmonies of siblinghood as it is about uncovering the provenance of a statue acquired mysteriously, er, inexpensively by the museum. Could it be a Michelangelo? Claudia and Jamie are set on finding out.
I love Claudia. Although she's running away, she's unwilling to skimp on personal comforts. Hence one of the world's finest fine-art museums as a hideaway. And she's constantly correcting Jamie's grammar.
"Of all the sissy ways to run away and of all the sissy places to run away to…' Jamie mumbled.
He didn't mumble quite softly enough. Claudia turned on him, 'Run away to? How can you run away and to? What kind of language is that?' Claudia asked.
'The American language,' Jamie answered."
E. L. Konigsburg published From the Mixed Up Files of Mrs. Basil E. Frankweilerin 1967. Read it to get a sense of a world (and especially a New York) that's more or less behind us: Claudia's hot fudge sundae expenses run about 40 cents per week. But she's willing to forgo them to save the train fare from Connecticut to New York. Antiquities security? Let's just say it was early days, as Jamie is able to hide his trumpet case in an ancient Egyptian sarcophagus for almost a week with museum staff none the wiser. And when was the last time you played a good game of War for two cents a card?
Have you read: The Uncommon Reader
Surely nostalgia adds to the charm of this book. There's something sublimely ideal about a child who would dream of seeking refuge in a museum of art. Still, Konigsburg gives us many surprising turns of phrase and moments of insight into character and psychology — such as how secrets make us different or how not looking in a mailbox leaves open the possibility that the hoped-for message is there — and even the fragile relationships among family that make this book worth of the Newberry Medal (which it was awarded in 1968).
Happy reading
---
Elizabeth Frengel is a curator of rare books at The University of Chicago Library Book Arts and History