Last updated on March 14th, 2020 at 01:23 pm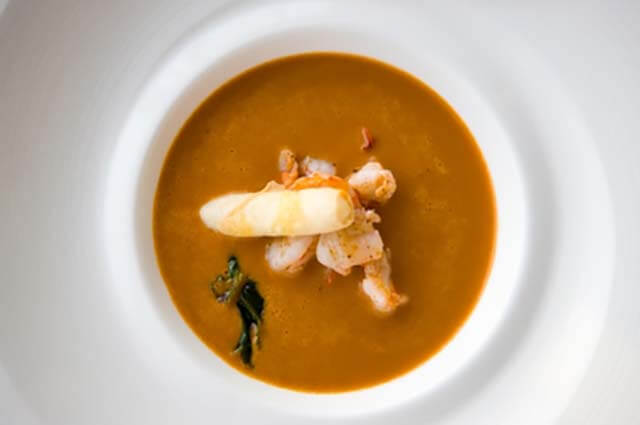 Wait until you try this delicious prawn and brandy bisque. This was given to me by Tara Howard who once owned the Langtry Manor Hotel in Bournemouth. It's impressive enough and perfect for serving to guests as a starter.
Ingredients
50ml  Oil
250g  Prawns
30g  Butter
20g  Flour
1 tbsp  Tomato Puree
1-litre Shellfish Nage (or good fish stock)
120ml  Cream
75ml  Brandy
1 pinch  Paprika
Salt & Pepper to Season
To Garnish – Crayfish tails and a sprinkling of chopped chives
Cooking Instructions for Prawn and Brandy Bisque
Heat the oil and butter,  then add the prawns and cook for 3-4 minutes on a moderately high heat
Sprinkle flour over the prawns and cook for a further 2-3 minutes
Add the tomato puree, stir in and cook for a further 2 minutes
Meanwhile, bring the stock up to simmer, then slowly add into the prawn mix and stir to prevent lumps.
Bring to the boil and simmer for 5-10 minutes
Pass through a fine sieve and return to the pan, then add the cream and brandy
Serve with a whirl of cream, chopped chives and crayfish tails to garnish
Already thinking of dessert? Try our mouthwatering creme brulee recipe
Good eating!
---
SearchGo is an online lifestyle magazine that provides information on every subject imaginable. If you need info … then search and go!