Last updated on April 12th, 2023 at 04:58 pm
The Queen's Gambit, by Walter Tevis, is one of those rare (not in that sense) books that no sooner had I finished, I wanted to go back and start reading from the beginning. It's that good.
It's the coming-of-age story of Beth Harmon, orphaned at eight and sent to the Methuen Home in Kentucky, where she develops an institutionally-induced drug habit and an obsession with the game of chess.
I should 'fess up and say I like chess and even play a little.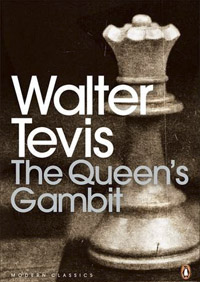 Very little. Nothing like Beth, whose assent as a child chess prodigy inevitably takes her to the U.S.S.R. in a bid for the world championship. Unlikely, perhaps, for an orphaned eight-year-old who, as punishment for stealing tranquillizers from the infirmary, is forbidden from playing in her most formative years. But the narrative suspense doesn't let you stop to ponder this.
An encounter with sexism in the sport sets up the battlefield
On the other hand, Beth encounters very likely sexism in the sport (when she tells Methuen's janitor that she wants to learn the game he plays solo in the boiler room, his curt reply beautifully sets up the battlefield: "'Girls don't play chess.'") and spends most of the book warring with demons both on and off the board. She's a brutally honest and interesting character study.
You don't have to play chess to understand The Queen's Gambit, but it helps to have some sympathy for the game's seduction. Even so, Tevis describes the matches in a way that gives just enough details about the moves to convey their tense psychological and aggressive implications.
---
Elizabeth Frengel is a curator of rare books at The University of Chicago Library Book Arts and History