Last updated on March 2nd, 2020 at 09:36 am
Southbourne is a coastal suburb of the resort town of Bournemouth and sits on the border of Christchurch, Dorset.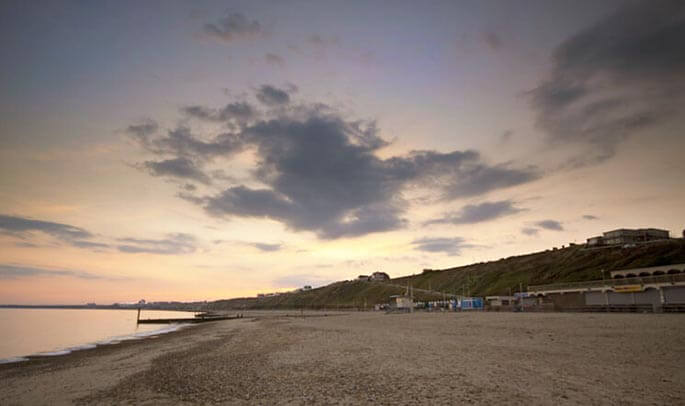 Fancy heading to the beach for a short getaway but don't want to be surrounded by the masses?  Prefer to relax surrounded by nature rather than fast-food eateries and ice-cream sellers?  Then pack up your beach bag and head for a weekend break in Southbourne in Dorset.


Though you'll be close to buzzing Bournemouth with restaurants galore and a variety of summertime entertainment to enjoy if you feel the need, Southbourne offers one a more laid-back, small-town coastal vibe in which to enjoy summer holidays, or a long-weekend break.
Southbourne Beach
The beautiful golden sandy beaches stretch from award-winning Blue Flag Southbourne Beach along the rugged coastline to the more shingled beach around Hengistbury Head and then follows on up to Mudeford in Christchurch where locals reside in colourful beach huts that enjoy outstanding views of the famous natural landmark of The Needles and the Isle of Wight.
One of the beauties of Southbourne Beach is that restaurants are few and far between in so obviously you'll steer clear of the crowds and can enjoy a delicious picnic that you've created with all your favourites, or perhaps you'll stop off at one of the local bakeries for fresh baked goods. There is also one butcher in particular who offers cold cuts, cheeses and pickles too.
Where to eat in Southbourne
However, if you are looking for a casual eatery with great food then I highly recommend Deli Rocks on the main high street in Southbourne.  Stop by and introduce yourself to the fabulous and friendly owner, Giovanni whose wonderful restaurant/Deli has a modern NYC loft/bistro feel to it… not dissimilar to Le Pain Quotidian chain, this is a one-of-a-kind type of establishment… rustic furniture, beautifully stocked shelves brimming with delicious looking pasta, oils and relishes.   The food is so very fresh and tasty and their cappuccino is second to none!
Shopping
Take a walk along Southbourne high street there are several gift stores from specialist candles, drinks, and sweets.  You might want to drop into Earth Foods, a fabulous health store that has been a staple in Southbourne for years, offering organic and fair trade produce, herbs, spices and toiletries…. Check out the soaps at the back of the store…!
Transformation
Southbourne has been going through a transformation with the appearance of several cool little establishments opening on the high street.  Even a Fishmonger has emerged – something that we rarely see these days and welcome addition to the neighbourhood!
I imagine in a couple of years this part of Bournemouth could be quite a happening little spot – a beach community with a bohemian yet cool and trendy feel to it with a little room for that quaint old English vibe too.  Southbourne is definitely, a place to check out next time you're in the Bournemouth area.
Local accommodation in Southbourne
When visiting the area finding the right accommodation in Southbourne is key to enjoying a short getaway or holiday. Though there is a fair selection of bed and breakfast properties and guesthouses, there are no commercial hotels to speak of in Southbourne.
For me, I enjoy my creature comforts and look for one of the unique and stylish hotels that are within walking distance to the beach such as the Urban Beach Hotel and Bistro, or, a little further into Bournemouth and you have quite a large selection of hotels to suit almost every budget and include large boutique-style accommodation, small seaside B&B's to all-inclusive affairs.
So, next time you have a few days off and want to relax away from the hustle and bustle, why not take a trip to Dorset to enjoy a weekend break the untouched beaches of Southbourne.
Happy travels