Last updated on March 8th, 2020 at 01:26 pm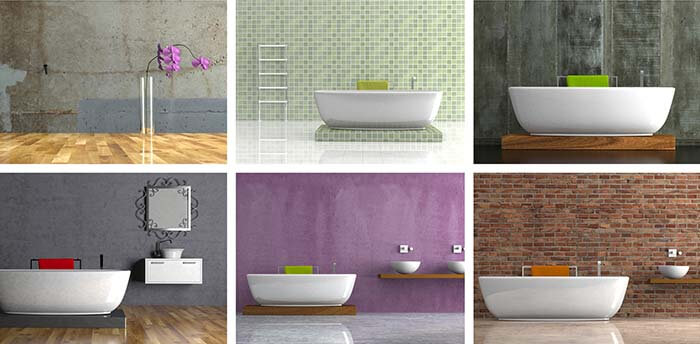 A light bathroom makeover is a great way to breathe some new life into your home and to add some new colours…
If you're anything like me, every now and again you've just got to give your bathroom a little spring clean, freshen-up and of course brighten up with a few new purchases of beautiful bath linens, bathroom accessories, soaps and lotions.
Bathroom makeover on a budget
I generally update my bathroom with a new look and feel once a year; this is during the big spring clean. I don't spend a lot of money on a makeover, and I pick up most items during the spring sales.
During the year, I like to collect items for my bathroom makeover, especially if I see them on sale. It may be a piece of driftwood or pebbles I find on the beach – all depending on whether I want that beachy look & feel in my bathroom.
Visualise your bathroom design ideas
It makes sense to have a plan upfront before you allocate a budget to a bathroom makeover. I look in magazines (usually found in office or healthcare reception areas) about the home to draw a little inspiration. I find the Pinterest bathroom category has a wealth of ideas for redecorating your bathroom.
Bathroom makeover ideas
The following tips will help get you started on your next bathroom edit. Remember, imagination is your only limitation, so let it loose a little.
A Beautiful bathtub adds style
If you're in the market for a stylish elegant looking bathtub then take a look at the bathtub range at Bathrooms Plus.  They have everything from simple white corner units to colourful free-standing old-fashioned tubs with clawed feet and hand shower. Or perhaps a more modern, sleek look is what you'd like for your new bathroom makeover.
Taps for every bathroom style makeover
One has to agree that there are just too many tap option available these days. Once you've chosen the bathtub or basin, then the task of selecting a tap seems to complicate the issue.
B&Q provides a large array of taps covering the gamut from modern waterfall bath fillers to traditional pillar taps for the bath.  Don't let this task overwhelm you, just take your time and you'll find the right design all from the comfort of your armchair.
Shower power
Here's an area that is always a bone of contention. I prefer a shower that's powerful, really beating down giving my skin a rejuvenating massage, but my partner prefers a steady gentle flow of water cascading down over his head – or, find a shower that can do both.
Whatever your preference there's something to suit everyone at Victoria Plum's shower category, including electric power shower units and multi-pattern showerheads.
No bathroom makeover is complete without linens
By far one of my favourite pastimes is to accessorise the bathroom with vibrant, deeply luxurious bathrobes that include bath linens, towels and bath mats. You're offered a choice of designer labels at John Lewis, where you mix and match colours and styles, creating a whole new look for your bathroom.
Since your bathroom is somewhere you spend so much time, why not make a little extra effort and find the perfect furnishings and luxurious linens to wrap yourself in following your daily bathing ritual.
Lather up with a change of body products
Use this opportunity to change the scents of your shower gels, soaps and shampoos. It really works and puts a whole new perspective on you!
While your writing down ideas for your new bath makeover, consider the following – if time and budget allow –
A small paint job for your bathroom – it works wonders
Shower curtains – to match your new bathroom style
Bathrooms tiles can also add a dramatic effect
Endless possibilities with a bathroom makeover
The ideas for a bathroom makeover should not end here; there are loads of possibilities from the subtle to the outrageous. It may be just a change in bathmats and towel colour, all change is good!