Last updated on February 24th, 2020 at 03:06 pm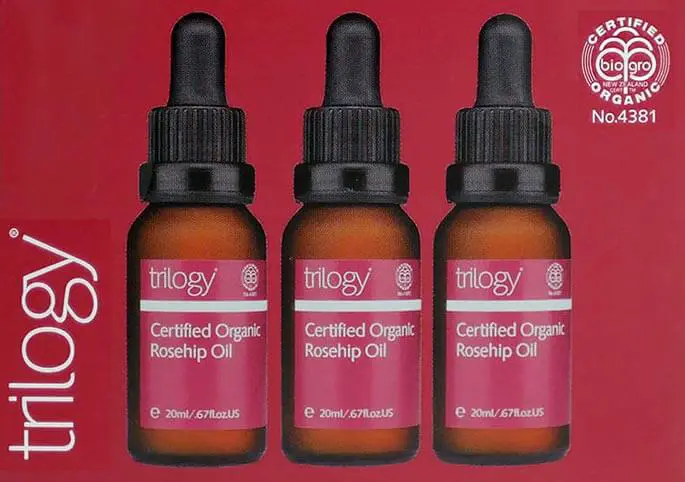 Long before I received my first bottle of Trilogy Rosehip Oil, I had already heard about the benefits of this natural skincare product and was looking forward to trying it
Boosting your skincare with natural and organic remedies
I've spent years purchasing all manner of skincare lotions and potions to keep it looking healthy and hydrated but as time flies by I need a little extra help to increase the moisture level and improve the skin texture of my face. I can happily tell you I've found something that's 100% natural, certified organic and reasonably priced to suit most budgets. Rosehip oil.




How to use Trilogy rosehip oil
In truth I didn't find this anti-ageing gem myself, it was my partner who was impressed with the results he saw in his own skin that he suggested I try it for myself.
Rosehip oil before or after moisturiser
I use just 3 drops of Trilogy rosehip oil blended with my regular moisturiser (currently Dermalogica or Neal's Yard) or applied straight from the bottle before moisturising is enough to cover your face with a smooth, gentle layer of the rejuvenating liquid.
What I love about this oil is that it isn't oily!  It seeps into the skin giving it a deep hydrating drink leaving my face feeling smooth, soft and healthy.
100% natural certified organic skincare treatment
I've been using Trilogy Organic Rosehip oil for over 5 months and can honestly say that I see a marked difference in my skins' tone and texture. The skin is much softer than it was thus creating a smoother appearance and texture.  I also notice that the wrinkles around my eyes are finer since using the oil.
"I love it when I find a product that actually works and doesn't cost the earth!"
The history of Trilogy natural skincare products
The Trilogy company, based in New Zealand, is the creation of two sisters from Australia, Catherine, and Sarah, who believe rosehip oil is highly superior to other skincare ingredients, hence their research into extracting oil from the rosehip and creating what has now become a highly regarded natural and organic skincare brand with their Trilogy Certified Organic Rosehip Oil.
Where to buy Trilogy Certified Organic Rosehip Oil
Available in two sizes, 20ml and 45ml, Trilogy Certified Organic Rosehip Oil can be purchased from a few online stores, however, we found the following shops to have the genuine item and reliable postage times.
Rosehip oil benefits for skin
The benefits your skin will gain with regular use of organic rosehip oil are impressive.  Several natural vitamins found within Rosehip oil aid in creating improved hydration, smooth skin, and a reduction in the appearance of fine lines and wrinkles.
Is rosehip oil good for reducing scars?
If scarring from surgery or burns is a problem for you then you'll definitely find rosehip oil to be of great help in regenerating the skin allowing scars to fade and natural skin-tone to return.  It has also been shown that rosehip oil can reduce the scars from stretch marks.
What vitamins help with skin rejuvenation?
What are these natural vitamins that can aid so well with skin rejuvenation? Well, we have Vitamin A, B, D and E, as well as fatty acids Omega 3, 6 and 9.
Vitamin A keeps the skin healthy and strengthens the immune system
Vitamin B for healthy skin
Vitamin D aids healthy bones and teeth
Vitamin E holds back premature ageing
Fatty Acids prevent heart disease, improve nails and skin, and is good for the brain
The most potent type of Rosehip (Rosa Rubiginosa) is said to grow wild in Chile where for many years locals have used the plant for its healing and regenerating qualities.
Clinical studies of rosehip oil
During my research for this article, I found various studies had taken place to confirm the validity of the benefits of Rosehip oil.  In a 2-year study that was carried out by the University of Concepcion in Chile back in 1983, the Faculty of Chemistry and Pharmacology found that when Rosehip oil was applied to patients with surgical scars, post-burn scars and to skin that was showing signs of premature ageing, the oil had a regenerative effect on the skin. With regular applications of rosehip oil surgical scars and burns were fading, and prematurely ageing skin was regaining its lost skin tone and colour.
Slow down facial ageing with Slendertone for face
Though I originally set out to write about a skincare product, I now see there are many beneficial uses for my Trilogy Rosehip Oil, not only as a complement to my daily skincare regimen but also as a healing tonic for blemishes and scars.