Last updated on April 12th, 2023 at 04:37 pm
In the game of love, it seems that the unlucky are apt to put the highest stakes on the ones who prove, time and again, to be their undoing.
The title character in Esther Waters, by George Moore, is just such an unfortunate creature – pushed by her stepfather out of the family and into service as soon as she is able. But her story is as absorbing and as well told as any I've read in a long while. All the more so because of Moore's unusual brand of realism, a narrative style he honed and experimented with in the wake of his literary forebear and acquaintance, Emile Zola.
Esther Waters is a novel about making difficult choices
I realize, of course, that when I invoke the name Zola, you all know that Esther's story isn't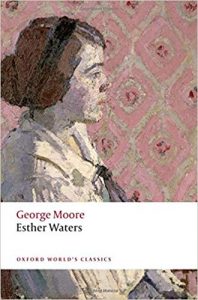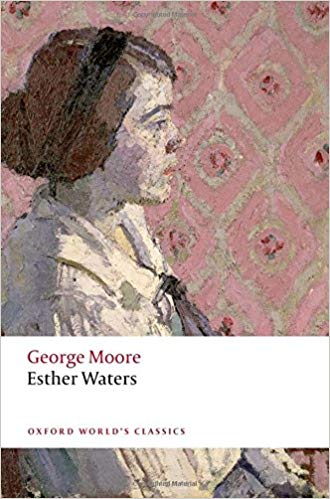 likely to be a happy one. But Moore (born in County Mayo, Ireland, in 1852 and died in 1933) does not subscribe wholesale to the school of naturalism. Esther is a servant and of the lower class, indeed; but her life is not predetermined by her social circumstances. The novel Esther Waters, published in 1894, is really a novel about making difficult choices. Or, as perhaps Moore might say, hedging your bets.
And those interested in horse racing should love this book. Moore's father was a racehorse trainer and owner, and at one time Moore thought seriously of becoming a jockey. Moore weaves this passion of his into the narrative tension. For example, the first situation Esther lands for herself is at a racing estate; and the footman there who seduces Esther goes on to become a bookmaker. Esther's fate becomes entangled with William's, a relationship that is founded equally on chance and choice.
The book is an interesting one to me – not only for its pace, which is unusually fast for a nineteenth-century novel but also for its melding of styles. I recognized a bit of Dickens, Zola and even Hardy, as Esther reminds me in some ways of Tess. But at the same time, Esther Waters is completely Moore's own. There are moments, for example, unlike in Zola, when Esther experiences sublime happiness. And more than one time or two, the choices she makes pay off. There are narrative inconsistencies, as you'll discover, but I think they add to the novel's quirky appeal.
Esther Waters, about to be republished by Oxford World Classics, is certainly worth a read.
Until next time
---
Elizabeth Frengel is a curator of rare books at The University of Chicago Library Book Arts and History