Last updated on July 27th, 2019 at 09:54 pm
After last week's downer, I feel as though I owe you something a bit more upbeat. So how about a rollicking comedy of manners from Nancy Mitford? In fact, I can't think of a better way to wind up the summer than spending it in The Pursuit of Love.
The novel expands on the same World War themes as A Woman in Berlin, covering the relative peace and prosperity following World War I to the onset of World War II and the German invasion of France and England. But what a dramatic shift in perspective.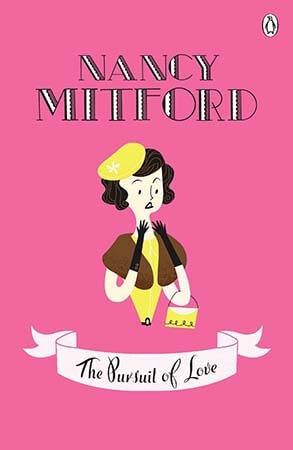 First, make no mistake that The Pursuit of Love is an English novel. So the bias — and the root of the satire — is all British. The story revolves around the Radlett's, landed gentry who reside at Alconleigh, a rambling country estate whose drafty Georgian manse becomes a character in its own right.
Inconspicuous cousin Fanny — whose main asset is her bad parentage — narrates The Pursuit of Love. She's plain, good and a perfect foil for the outrageous adventures of her kin. To give you an example: Her uncle keeps an entrenching tool above the mantelpiece in the drawing-room. The tool is a showpiece
"with which, in 1915, Uncle Matthew had whacked to death eight Germans one by one as they crawled out of a dug-out. It is still covered with blood and hairs,"
and of course, it is an object of fascination for the Radlett children.
What is the Pursuit of Love about?
Linda Radlett, Uncle Matthew's favourite and the heroine of this story, lives in a dream of love. Consequently, the action centres on her fluttering from one ill-advised match to another. First, there's her marriage to Tony Kroesig, a cursed German, and a new-money banker to boot. Then she's off with Christian, the communist, to help political refugees flee Spain. Will she ever find true love? Or at least someone her family approves of? Let's just say that an unscheduled stop in Paris in springtime is in the cards.
What saves this novel from romantic smarm is Mitford's incisive eye for parody and ear for English repartee. The art of conversation is still alive and well in the period in which The Pursuit of Love unfolds. Chatting, in fact, is what Linda seems to be bred for. Uncle Matthew set her the best of examples. He refers to anyone he doesn't like as a sewer. As in, when Fanny and Linda ask innocently after Oscar Wilde's crimes: "If you mention that sewer's name again in this house I'll thrash you, do you hear…!"
Uncle Matthew likes to roar a lot, and his views on the woman question are rather primitive, but he's really a teddy at heart.
And there's Lord Merlin, the liberal-minded neighbour who fancies modern art and provoking Uncle Matthew. His telegram address is "neighbour tease."
Mitford based much of this novel on her own upbringing. She was born in 1904, the eldest of seven children of Lord and Lady Redesdale (2nd Baron Redesdale) She went through more than one marriage, but her heart remained loyal to Gaston Palewski, a French diplomat whom she met in 1942.
The Pursuit of Love, which is dedicated to Palewski, was first published in 1945 and has never since been out of print. If you like this one (and I'm confident you will), then you can find it on Amazon, it's definitely a desert island book. Indeed.
---
Elizabeth Frengel is a curator of rare books at The University of Chicago Library Book Arts and History