Last updated on April 12th, 2023 at 05:04 pm
I'd say if you want a fast-paced, well-written drama featuring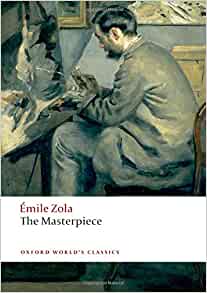 the tortured artist, check out Emile Zola's, The Masterpiece.  Zola, famous for his realism, bases the novel on the characters of his friend, Paul Cezanne, and Edouard Manet.
Have you read:
Though Claude Lantier, the main character and part of the Rougon-Macquart series, is obsessed and often acts abominably, Zola takes great pains to show us why he behaves as he does. There's also a fascinating (fictional) description of the making of the Dejeuner sur l'herbe (1863), Manet's real-life masterpiece that provoked a bit of shock and ridicule among the Paris art scene.
The Masterpiece set off a few shockwaves of its own, not just among literary critics (who loved to grouse about Zola's gritty and extreme approach to realism) but also among his friends, who felt betrayed by the novel's portrait of painters.
Well, you can't please everyone, can you? If you like painters lives and fiction, either one of these may be worth checking out.
Until next time
---
Elizabeth Frengel is a curator of rare books at The University of Chicago Library Book Arts and History