Last updated on March 14th, 2020 at 10:09 pm

Dubai, the second-largest of the seven Arab Emirates, was once a small trading post whose inhabitants, the Bedouin, roamed the vast sandy expanses as nomads.
The Emirate of Dubai
Today, the Emirate and namesake capital Dubai City is the product of over 30 years of intensive development and has been transformed into a modern, cosmopolitan, technologically advanced metropolis where the majority of the Emirates population reside.
Dubai's entrepreneurial spirit
Unlike its neighbour, Abu Dhabi, Dubai's wealth is not based on oil revenue – being less than 5 per cent of GDP – but as a consequence of their entrepreneurial spirit. The Arabic tolerance of other people's customs and lifestyle, their reverence for hospitality and the genuine warmth visitors receive makes for a thoroughly enjoyable stay, whether on business or holiday.




Dubai holiday travel
Arriving in Dubai
Seafaring visitors will dock in the largest human-made harbour in the world, Jebel Ali, constructed in the 1970s; those arriving to visit Dubai by air will fly into Dubai International Airport (DBX).
Dubai International Airport is now one of the busiest international airports handling some 6,000 weekly flights, operated by 130 different airlines.  In 2010, DBX saw a 15% increase (from the previous year) in airport traffic, transporting a staggering 43,180,638 air passengers to 220 destinations across the globe.
Carriers to the Emirate 
British Airways and Virgin Atlantic are one of the many airlines who offer scheduled daily flights as well as holiday packages to this exciting and growing metropolis, now one of the Top 10 most visited cities in the world.
Best ways to get around Dubai
Getting around the Emirate is accessible via its top-class highways either by taxi or with a hire car but note that visitors MUST obtain a temporary local driving license to do so and the car rental company can easily arrange this. However, if you are looking for a stress-free way to visit Dubai city, why not book a guided tour with a knowledgeable native. You'll be guaranteed an informative trip of all the 'must-see' locations in the city.
Bus or Abra water transport?
The Roads and Transport Authority (RTA) run the Dubai bus service, which though extensive, is insufficient for the growing number of individuals who either live or work in the bustling metropolis. Another form of transport is the Abra, considered to be one of the oldest forms of water transport – there are two types, a rowing abra, or motorised Abra and these generally run between 5 am and 12 midnight transporting travellers between Dubai City and Deira.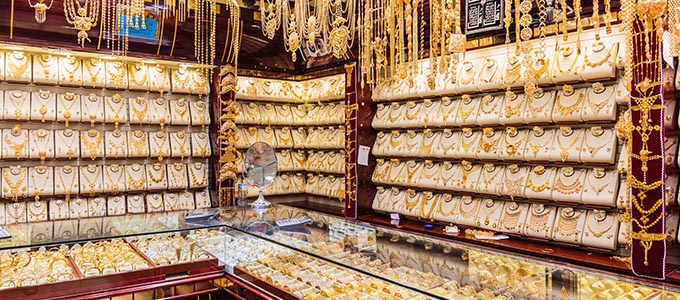 Dubai Metro rail network
And finally, there's the Dubai Metro 'Red Line' that opened in 2010, now said to be running from Al Rashidiya to Jebel Ali with 27 out of the 29 new stations in use, and estimated to be capable of transporting 11,000 passengers per hour and in 2013 approx 240,000+ per day! The Green Line runs between Al Nahda and Healthcare City.
Visit Dubai and shop 'til you drop
If gold is on your shopping list when you visit Dubai, then head for the larger alleys in Deira where local sellers offer gold rings, earrings, bangles, necklaces and brooches at remarkable prices, probably cheaper than anywhere else in the world.
For many, shopping for gold is one of the top reasons why travellers love visiting Dubai.




Don't forget to visit the Dubai fish market
The fish souk in Deira is a place of frenetic bargaining during the mornings and evenings as local fishers offload their catch of fresh fish to stallholders and the public. The fishy smell of rock cod, mackerel, red snapper, kingfish, barracuda, tuna, crab, king prawn, lobster, sea bream, squid, pomfret, shark, sardine and other species permeates the air.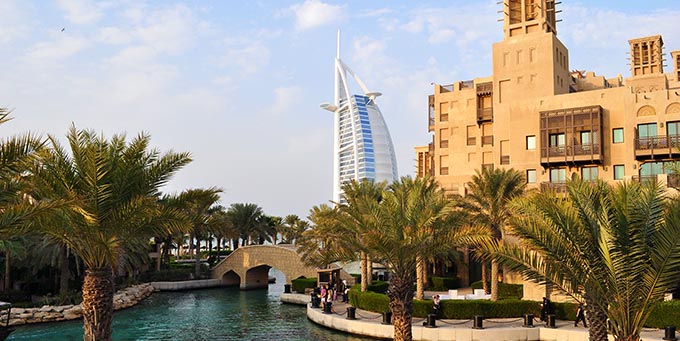 Luxury hotel accommodation in Dubai
Dubai offers the cream of the crop when looking for luxury hotel accommodation. Quoted as being 'home to the world's most luxurious hotel', the Burj Al Arab, owned by the Jumeirah hotel chain offers guests suite-only accommodation in a stunning piece of modern architecture that climbs some 321 meters into the sky above. The magnificent Royal Suite features a private elevator and private cinema. It offers its extravagant inhabitants a luxurious rotating four-poster canopy bed to recline.
For an extra charge, one may utilise the chauffeur-driven Rolls Royce for all those essential shopping trips, for what else is there to do in Dubai but shop!
Planning your trip to Dubai
There are plenty of activities in Dubai from shopping to visiting museums.  The following resources will help you plan your trip to Dubai.