Last updated on April 12th, 2023 at 05:18 pm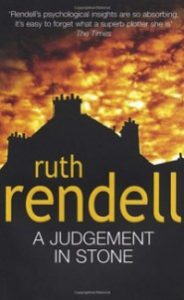 Well, no sooner had I finished The Body in the Library (Miss Marple in top form), than I abruptly veered off the reading course I'd so carefully charted for us last week. Sorry about that.
Seems I've had a rabid thirst for British mysteries of late — Miss Marple, Poirot, Inspector Lynley, Detective Ross Tanner in Second Sight, Detective Jane Tenison in Prime Suspect (can I tell you how bummed I am that that marvellous series ended?) — and I was thinking that perhaps just one more little mystery will satisfy it. Right?
A Judgement in Stone by Ruth Rendell is proving an unparalleled diversion. It's a Valentine's Day massacre at Lowfield Hall when Eunice Parchman slaughters the Coverdale family who employs her — and all because she cannot read.
The Coverdale's, on the other hand, are hyperliterate. And in that contrast lies the spooky tension that underpins this hypnotizing narrative. Eunice is petrified to the point of mania at having her intellectual shortcoming exposed. Meanwhile, she's taunted (though she's never quite certain why) by the quotes of the month Giles Coverdale posts on the corkboard in his bedroom, such as this from October:
'Some say life is the thing, but I prefer reading'.
Or this from November:
'The flesh is sad, alas, and I have read all the books'.
A Judgement in Stone is at heart about the tension between reality, or experience, and fiction, or illusion. Giles prefers to read all the books; Eunice has no choice but to endure the reality at hand.
Whydunit mystery
If you haven't guessed, this is another whydunit, rather than a whodunit mystery. Fortunately, Rendell (who also writes under the nom de plume of Barbara Vine) has a knack for drawing piercing psychological portraits. And Eunice Parchman is an odd duck extraordinaire — remarkable, in my mind at least, for her complete and utter lack of imagination. A symbol, no doubt, for the insidiousness of illiteracy.
In fact, there are so many clever plays on literacy and literary pretensions, as well as many striking literary allusions, that I cannot begin to list them all. But if you like and know your Byron, Shakespeare (especially the sonnets), Beckett, Mallarme, and Aquinas, to name just a few, then A Judgement In Stone will be right up your street.
Happy reading
---
Elizabeth Frengel is a curator of rare books at The University of Chicago Library Book Arts and History