Last updated on April 12th, 2023 at 04:43 pm
This is going to be short because one, I got a cold for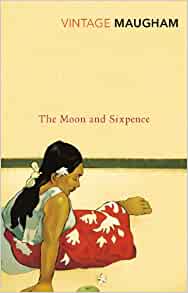 Valentine's Day and, two, to be honest, I can't say I'm 100% behind the book I'm blogging. I started reading W. Somerset Maugham's, The Moon and Sixpence – loosely based on the life of French painter Paul Gauguin – with alacrity and interest. But then my feelings about this novel changed.
Typical of Maugham, the book begins with a bit of philosophizing and then a pointed look back. In this case, an unnamed narrator expounds briefly on the artistic genius and why it's seldom appreciated in its own time. He then reflects on the time he knew Charles Strickland (the fictional Gauguin) in London and in Paris.
Strickland as Gauguin
Here the narrative takes a sharp turn from a rather dull soliloquy to pretty high drama. We first meet Strickland through his wife. The couple lives a conventional life in London – he a stockbroker and she a skilful housekeeper and mother of two. Then, out of the blue, Strickland leaves her and the narrator is dispatched to Paris to bring him home.
Needless to say, Strickland never goes home. Instead, he stays in Paris and starts painting. Badly.
So far, so good. But as Strickland and the narrator strike up an uneasy and often unbelievable friendship, Maugham starts to lose me. Strickland is totally self-absorbed, arrogant, and generally detestable. For instance, when his lover kills herself by drinking acid, he dismisses her as a fool.
Women are dissed; art is divorced from the realm of the mere mortal. It's not exactly uplifting. Also, the narrator's connection with the narrative seems contrived. He's there to relate the high points, and then at other moments, you wonder what he ever had to do with these people, who he tells us repeatedly he does not like.
---
Elizabeth Frengel is a curator of rare books at The University of Chicago Library Book Arts and History