Last updated on February 8th, 2020 at 09:55 pm

Our current Wine of the month includes two delicious wines from the Alsace region of Eastern France.
Some of you may be aware that on the previous Viewpoints & Reviews website we had included a selection of 'special wines' from around the world in our 'Wine of the Month' collection.  We are going to start adding wines once again.
What are Alsace wines
Sitting on the border of France and Germany, the Alsatian wines are produced from an aromatic grape varietal, and certainly one will notice a strong Germanic influence in them.  They are aromatic, floral and spicy, mostly dry white wines.



Grapes varieties include
Pinot Noir
Reisling
Sylvaner
Gewürztraminer
Muscat
Pinot Gris
MORE FOOD & DRINK
What does Alsace wine taste like?
Fresh and fruity flavours offer hints of peach and apple, as well as florals, all of which come to mind when you taste this wine selection.
What does an Alsace wine look like?
An Alsace Pinot Blanc should be a clear, pale yellow with a slight tinge of green to it.
What type of food de Alsace wines go with?
Alsatian wine is a great accompaniment to fish, poultry, and white meat dishes, it is also suitable to enjoy with soft cheeses and or an egg-based dish. Try giving your taste-buds a thrill as you sip a glass of this varietal from Alsace.
Rolly Gassmann, Pinot Blanc
I recently tried a Rolly Gassmann, 2006 Pinot Blanc from Steve Prior the owner of Edge Restaurant in Bournemouth to see what flavours I could pick with my non-wine connoisseur nose – I found it had a Mediterranean fruitiness to it. Though this may have been the atmosphere lending to the experience (the restaurant overlooks the sea).
Jan Hugel, Gewurztraminer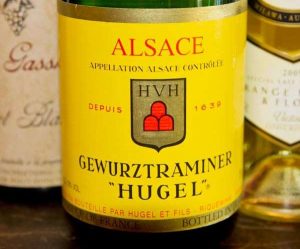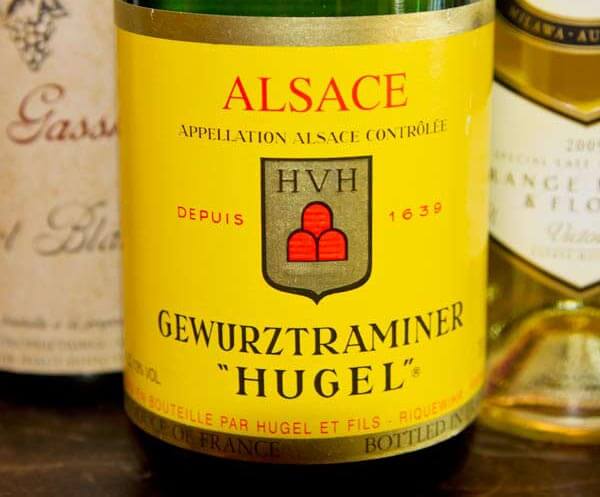 The second Alsace offering we have this month is the 2009 Gewurztraminer from the Jean Hugel vineyard, winemakers since as far back as 1639.  Gewurz, German for spicy, rings true here, with the addition of the floral of rose and the fruitiness of citrus, banana, pear and pineapple. A rich yellow with highlights of gold, this is a highly aromatic wine.
A great accompaniment to Asian and Indian food, it is a great partner for most spicy dishes as well as smoked fish, and superb with Munster and/or Roquefort cheese. Foie Gras (ethically sourced, of course) will get a boost from this wine which may also be enjoyed as an aperitif and/or a dessert wine.
I hope that you will enjoy the wine selections we have chosen and look forward to hearing your feedback and comments in the weeks and months to come.
Happy tasting!